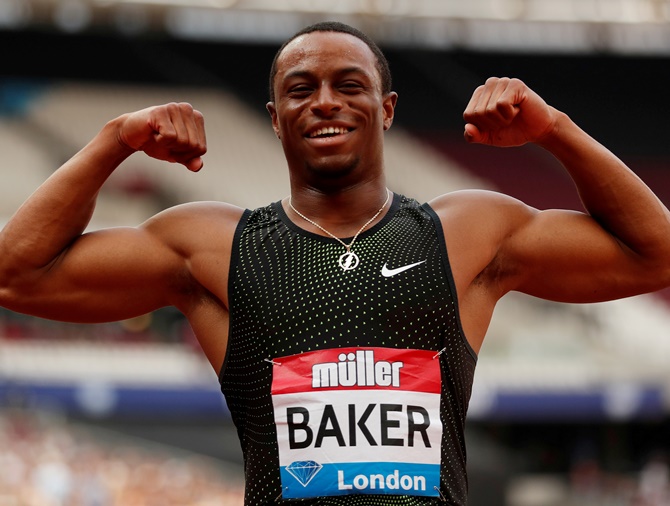 American sprinter Ronnie Baker has never seen a world outdoor championship in person but after his sparkling 2018 season the world indoor bronze medallist is probably checking the weather for next year's worlds in Doha.
"He has turned himself into a legitimate medal threat, and not just indoors," four times Olympic sprint medallist Ato Boldon told Reuters.
Only world indoor record holder Christian Coleman has run faster than Baker's 9.87 seconds over 100 metres this year, and Baker was more consistent with five of the nine top times including the yearly lead until Coleman passed him in late August.
"If he continues on this path, he is going to be a medal threat in the next two world championships and the next Olympics," said Boldon, now a respected analyst.
"He has all the tools to be a 9.7 (seconds) guy, and I think the era of 9.7 to win just about everything is upon us. I don't think it is going to take 9.6 to win in Doha or Tokyo (at the 2020 Olympics)."
A standout indoor collegiate runner, Baker claimed the 2017 U.S. 60m title and a year later, at the American world trials, became the third fastest at 60m with a run of 6.40 seconds to finish behind Coleman.
But it was outdoors that the Texas-based sprinter really burst onto the international scene.
"I had such an amazing season," Baker said in a telephone interview. "Five PRS (personal records), two or three world leads."
Four Diamond League victories and a second to Coleman in the Diamond League 100m final added to the success.
"I ran 13 (100m) races last season outdoors. I lost three of them and I came second every single time," Baker proudly recalled. "The consistency for me was huge. That was one thing I was super pleased with."
The oldest, at 25, of the young American triumvirate that has flexed its sprinting muscles, Baker is not as well known as Coleman, 22, the world 100m silver medallist or Noah Lyles, 21, the Diamond League 200m winner and world 300m indoor record holder.
The US also has the defending world champion in the 100, Justin Gatlin, who will be 37 next February.
But Baker can no longer be overlooked.
"Something happened in the last 12 to 16 months. He's a different guy," Boldon said.
"He looked like he was going to be another typical 60 metres specialist. But in the last calendar year I have watched Ronnie figure out his last 40 metres to the point where he doesn't really need to be the first out of the blocks."
"He doesn't need to be best starter in the race. He understands the 100 is a different philosophy."
Baker agreed.
"I think the best part of my race is definitely the end," he said. "I feel like I accelerate really, really well and have good strength and can hold my speed for a pretty good amount of time."
His ability to focus, though, needs a bit of attention.
"It's not so much the crowd or anything," said the distant relative of U.S. 100m record holder Tyson Gay. "Sometimes I just get sidetracked by the guys in the race. Learning to tune that out is going to be a huge key for me moving forward."
Running more 200s also would help, Boldon said.
"The last bunch of guys who have dominated the podium, whether it be (Usain) Bolt, Gatlin or others, all have one thing in common. I call it being married to the 200."
"You have to run the 200 as much as you run the 100. That's where you get the ability to be a great 100m runner. When you are running 200s often, the 100 doesn't feel long."
Only twice did Baker run the half-lap race in 2018 with a couple planned for 2019.
At least one indoor race is on the schedule in the long build-up to the world championships in late September.
Baker also plans to work with Fort Worth nonprofit Hope Farm as he did in the off-season.
"They mentor young boys with single parents... without fathers," he said. "I'm going to spend time with them. Kind of give them a positive male figure."
In a friendly competition with other athletes, he also raised $2,500 in a week for the organisation, Baker said.
It was all part of a 'dream' 2018.
"I never imagined myself being the fastest in the world, or even being top five in the world," he said.
"Track was never my first dream. I wanted to play basketball."
College and success in athletics changed his mind, said Baker, who did both in high school.
So how fast can he run?
"That's the one thing I won't talk about," Baker said. "I'm just going to train and let the numbers fall where they may."