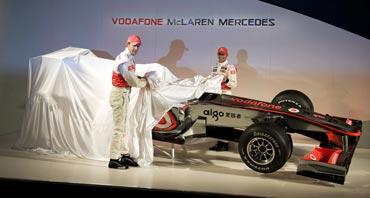 McLaren Mercedes launched its new car for the 2010 season on Friday.
The MP4-25 will be driven by Lewis Hamilton and Jenson Button, the reigning world champion having joined the British squad from Brawn GP, with which he won the title last year.
The Mercedes-powered MP4-25 was unveiled at Vodafone UK's headquarters in Newbury. The new McLaren car retains the silver colour of recent years, despite engine partner Mercedes-Benz's switch of focus to its own 'Silver Arrows' outfit.
The car has a high shark-fin engine cover running up to the rear wing, not used by the team in 2009.