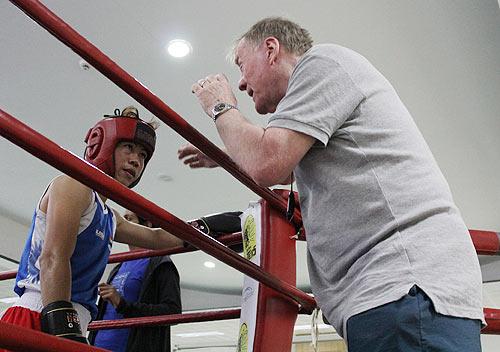 Mary Kom is all ears for veteran trainer Charles Atkinson. Photograph: Hitesh Harisinghani/Rediff.com
Charles Atkinson will always be remembered in India's boxing history as the coach who trained five-time World champion Mary Kom.
The revered English coach was specially hired to hone Mary's preparations for the 2012 London Olympics, where she won a bronze medal in the 51kg category.
When not sharpening the skills of the boxers, he turns analyst of the sport.
May 2 is bound to go down as a big day in the history of boxing, as unbeaten US boxing champ Floyd Mayweather and Filipino boxer-turned-politician Manny Pacquiao engage in the 'Fight-of-the-Century' in Las Vegas.
Ahead of the bout, Atkinson, at the grand old age of 73, exclusively tells Laxmi Negi/rediff.com that his heart would love Manny to win, but his head says 'Moneybags' has all the skills to pull it off.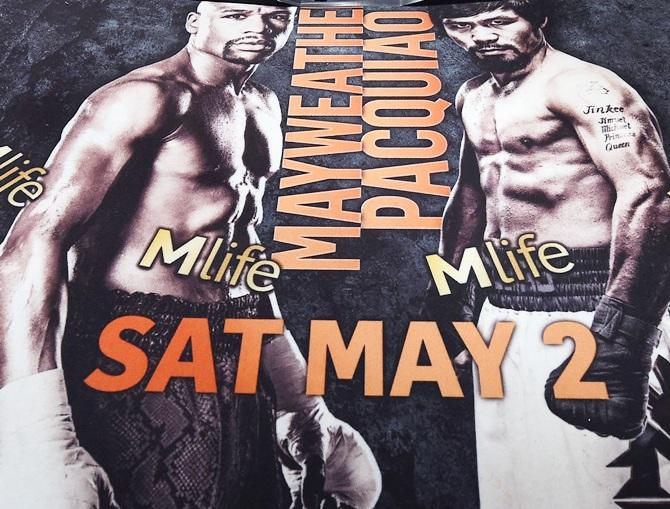 The upcoming fight between WBC/WBA welterweight champion Floyd Mayweather Jr. and WBO welterweight champion Manny Pacquiao. Photograph: Ethan Miller/Getty Images
The buzz about the 'Fight of the Century'…
The size of the fight in terms of public interest is amazing. People who have never watched a fight in their lives will be watching this one. Here, in the UK, everyone is talking about it; boxing is back on top here. Although, in my opinion, it is four years late, and both men are, in my opinion, past their peaks, it's shaping up to be an exciting night at the MGM Grand Arena in Las Vegas.
Why Mayweather is the complete package…
Four years ago I would have backed Mayweather to win comfortably. It's a case of whether the goalposts have moved at all over the four years. While I have not been in either camp, I know Freddie Roach to be a thorough and skilled trainer. He has taken a lot of the raw edges off Manny over the last two years and the Filipino is a more accomplished performer these days. But does he bring enough to the table this time?
Mayweather is the complete finished article when it comes to boxing; he has mastered the game completely. However, if there has been any deterioration in his reflexes or foot speed it could give the Filipino southpaw a chance. Floyd's super skills can't last forever, but are they waning now?
Manny, a loved boxer…
On the other hand, Manny can be a hit; we know that from the last (Juan Manuel) Marquez fight, and Floyd is a super fast counter puncher who will at some point connect for sure, as no doubt will Manny. Who does it first may hold the key.
Manny is a much-loved boxer, a humble God-fearing man who puts others always before himself. The majority of people would love Manny to pull it off over the brash, splash-the-cash, big spending Mayweather. However, Floyd has the skills, if still intact at 37, to see this through.
Prediction…
My heart, like that of many others, would love Manny to win, but my head tells me Moneybags has all the skills to pull it off. $120 million, not bad for a night's work!
Read More
Pacquiao's trainer continues war of words
Fight of the Century: Mayweather talks money!
Before Fight of the Century, Mayweather, Pacquiao downplay animosity
Fight Of The Century: Pacquiao confident of beating Mayweather
Mayweather-Pacquiao undergo drug testing before bout
Boxing legend Ali sends a reminder to Mayweather