World champion Viswanthan Anand played out his second draw with World No 1 Magnus Carlsen of Norway to stay second in the overall standings after the sixth round of fourth Final Chess Masters in Bilbao, Spain.
It turns out to be a good start for Anand in the second and final leg of the category-22 super tournament after a sedate start in Sao Paulo.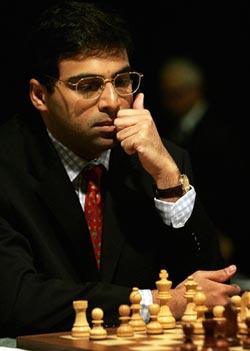 The world champion was never in difficulty and now has two white games to bank on in the remaining four rounds in the tournament.
Anand went for the tried and tested Nimzo Indian defense against Carlsen who played white. The opening ended on an even keel and Anand neutralised white's initiative after trading the queens. The ensuing endgame gave Carlsen an optical advantage as Anand had seemingly weakened pawns on the king side but the world champion dissolved them in quick time to ensure parity. The game lasted 48 moves.
Vassily Ivanchuk of Ukraine, meanwhile, stretched his lead after defeating Hikaru Nakamura of United States in a fine attacking game.
The Ukrainian, who was robbed at gun point after the conclusion of the first leg of the tournament in Sao Paulo, was at his best in demolishing the defenses of Nakamura in a Sicilian defense game.
The other game of the day between Francisco Vallejo Pons of Spain and Levon Aronian of Armenia ended in a draw.
With four rounds still to come in the event, Ivanchuk is at the helm with 13 points in all in the soccer-like scoring system that gives three points for a win and one for a draw.
The Ukrainian has won four games thus far besides a loss and a draw and is now six points clear of nearest contenders -- Anand, Aronian, Carlsen and Nakamura who all have seven points apiece. Vallejo Pons stands at the bottom with four points in his kitty in the six-player double round-robin event.
Ivanchuk faced the Sicilian Taimanov from Nakamura and showed his true mettle under pressure. Te opening saw white gaining a slight initiative and Ivanchuk build on it with some concrete plans in the middle game.
Nakamura made the decisive error on move 29 and paid a heavy price as Ivanchuk wrapped the game ten moves later.
After his lone and 'lucky' victory against Carlsen in round three at Sao Paulo, Vallejo Pons secured his first draw in the tournament after signing peace with Levon Aronian.
It was a queen pawn game wherein Aronian had to fight to equalise and after regulation exchanges, the Armenian was eventually successful in his attempt. The peace was signed following repetition on move 39.
Results round 6: Magnus Carlsen (Nor, 7) drew with V Anand (Ind, 7); Vassily Ivanchuk (Ukr, 13) beat Hikaru Nakamura (USA, 7); Francisco Vallejo Pons (Esp, 4) drew with Levon Aronian (Arm, 7).
The moves: Magnus Carlsen v/s V Anand
1. d4 Nf6 2. c4 e6 3. Nc3 Bb4 4. Nf3 b6 5. Qc2 Bb7 6. a3 Bxc3+ 7. Qxc3 O-O 8. Bg5 d6 9. Nd2 Nbd7 10. f3 h6 11. Bh4 Rc8 12. e4 c5 13. Bd3 d5 14. exd5 exd5 15. O-O dxc4 16. Bxc4 cxd4 17. Qxd4 Nc5 18. Bxf6 Qxf6 19. Qxf6 gxf6 20. Rfd1 Na4 21. Rab1 Rfd8 22. Bb5 Bc6 23. Be2 Bd5 24. Nf1 Be6 25. Ne3 f5 26. g3 Kg7 27. Kf2 Kf6 28. Ba6 Rb8 29. b4 Nc3 30. Rxd8 Rxd8 31. Rc1 Nd5 32. Ng2 Rd7 33. Rc2 Rc7 34. Ne3 Rxc2+ 35. Nxc2 f4 36. Nd4 Bd7 37. Ke2 fxg3 38. hxg3 Ne7 39. Ke3 Nf5+ 40. Nxf5 Kxf5 41. Kd4 Ke6 42. Bc4+ Ke7 43. f4 f6 44. Bd5 Kd6 45. Bf3 Be6 46. Ba8 Bf5 47. Bf3 Be6 48. Ba8 Bf5 49. Bf3 Be6 game drawn.