'I am feeling so nervous. I will be among so many big politicians.'
'It is a big responsibility and I hope I learn every day and do something for the people in whatever way I can.'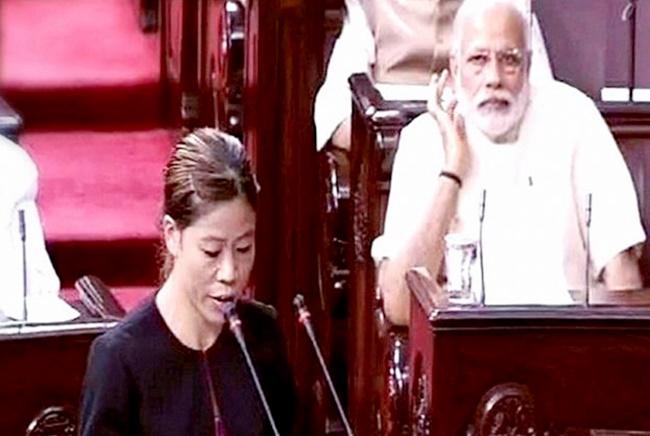 IMAGE: Champion boxer Mary Kom takes the oath as a member of the Rajya Sabha. Photograph: PTI
'Magnificent' Mary Kom tells Rediff.com's Harish Kotian that she will air her views on sports in the Rajya Sabha.
Indian boxing legend M C Mary Kom will make her debut as a Rajya Sabha MP in Parliament's Monsoon session which begins on Monday.
"I am feeling so nervous. I will be among so many big politicians. I don't know what I am going to do. I am also very excited," the Olympian bronze medalist told Rediff.com in New Delhi.
Asked what issues she will raise in the Upper House, Mary says, "I can raise the issue about the sorry state of boxing in India right now. There is no federation and I hope the issue is resolved right now, so that is one thing I can bring up in Rajya Sabha and draw everybody's attention to it. Indian boxers, more so the young and upcoming boxers, are struggling as they are not getting to take part in competitions."
The six-time World champion says it is a good sign that sportspersons are being given a chance in the Rajya Sabha. "This is a good sign that sportspeople have been nominated to the Rajya Sabha. There will be a sports discussion period during which I will get a chance to air my views on sports."
Following Vijender Singh's superb showing in pro boxing, Mary Kom has been asked if she would like to switch to the professional circuit.
The 33 year old is non-committal at the moment. "It is too early to talk about pro boxing," she says, "I have not given it a thought yet. Right now I am focussed on my new role as a Rajya Sabha MP."
"It is a big responsibility on my shoulders and I hope I learn every day and eventually do something for the people in whatever way I can," she adds.
"I am a selfless person and want to give something back to my people and that is one reason I opened my academy, the Mary Kom Boxing Foundation, in Manipur," she says. I have been spending on the academy from my own money for the last 10 years because I want to help more girls to get into boxing."
Mary says she was blown over by the amazing response to Vijender's pro boxing bout in New Delhi.
One of the special guests at the Thyagraj Stadium in New Delhi when Vijender outclassed Kerry Hope to win the WBO Asia Pacific super middleweight title, she says, "It was an amazing experience. I didn't expect such a response to pro boxing in India. I don' think I have ever witnessed such an atmosphere and such a passionate crowd in a boxing bout even in big competitions like the Olympics and the Asian Games."
"This was the first time we had pro boxing in India and I was happy that people turned out in large numbers to cheer the boxers," she adds.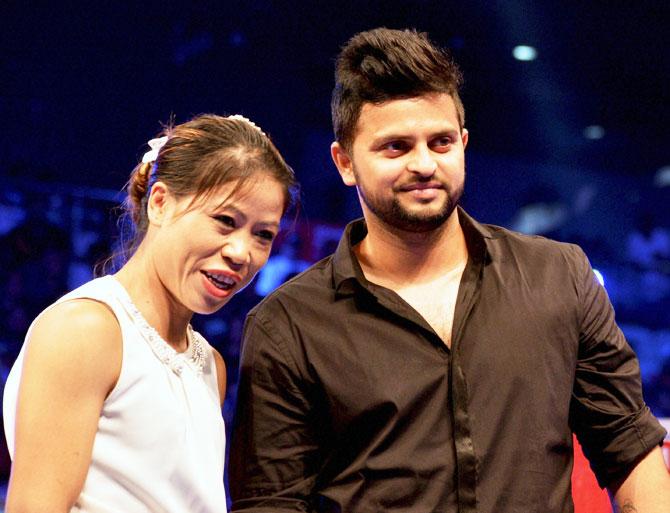 IMAGE: Mary Kom and cricketer Suresh Raina before the WBO Asia Pacific Middleweight Championship at the Thyagaraj Sports Complex in New Delhi on Saturday, July 16. Photograph: Manvender Vashist/PTI
Mary hails Vijender for putting up a superb performance against a tough opponent like Kerry Hope and believes his success will be a big boost for pro boxing in India.
"I would say he has done well. Even in his amateur days he was very successful and he has continued in the same vein in pro boxing. Before him, I don't think Indian boxers were keen to switch to the professional format. I think Vijender's success will open the doors for more Indian boxers to join pro boxing."
"His opponent was experienced, but he put in a good performance and won the bout. It was not easy for him," says Mary, "but he proved himself."
"I would say he is one of the best boxers in the world right now," says Mary.
"When Vijender joined pro boxing, there was some pressure as some people questioned why he was leaving the amateur format, but he has proved everyone wrong with his superb performance and winning the Asian Championship title," she adds.
"When you try something new," she says, "people always question you. I was asked why I wanted to continue boxing after marriage and after having children, but I was determined to prove myself."
"Eventually," Mary adds, "my performances in the ring answered everyone."