Gaurav Solanki and Vikas Krishan assured of medals after entering semis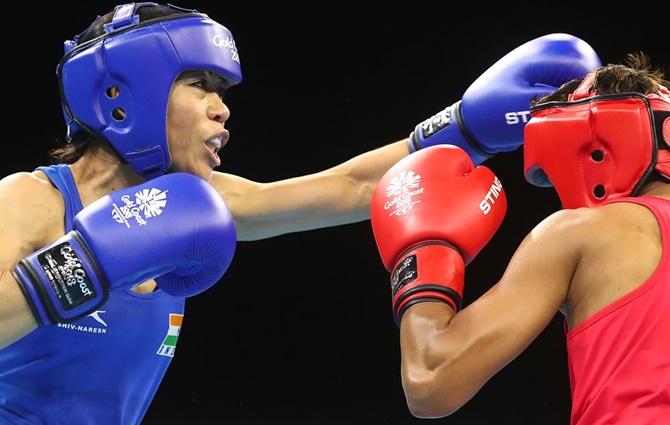 The indomitable M C Mary Kom (48kg) stormed into the finals and was on course to deliver India's maiden Commonwealth Games gold in women's boxing, while Vikas Krishan (75kg) along with two others entered the men's semi-finals, in Gold Coast, on Wednesday.
Five-time World champion and Olympic bronze-medallist Mary Kom defeated a defensive Anusha Dilrukshi Koddithuwakku of Sri Lanka 5-0 to make the summit clash in her debut appearance at the Games.
Among the men, the debutant duo of Gaurav Solanki (52kg) and Manish Kaushik (60kg), and World bronze-medallist Vikas made the semi-finals.
This takes the total number of male boxers in medal rounds to eight, a 100 per cent success rate in the event and one more in numbers compared to their best ever show at 2010 Games.
"It was difficult in the sense that this girl would just not come to me. I had to be careful because she was perhaps waiting for me to let my guard down," Mary Kom said after the bout.
It was a battle of veterans between the 35-year-old Indian and 39-year-old Koddithuwakku.
Mary Kom, also a sitting Rajya Sabha Member of Parliament, prevailed in a rather dull contest where clean punches were few and far between.
Despite the height advantage Koddithuwak struggled to connect for most part of the contest. She picked up pace in the final three minutes but Mary Kom drew from her own wealth of experience to thwart her.
The Olympic bronze-medallist Indian will square off against Northern Ireland's Kristina O'Hara in the final.
O'Hara, a carer at a nursing home in her country, defeated 19-year-old New Zealander Tasmyn Benny in the semi-finals.
However, another Indian veteran L Sarita Devi (60kg) failed to secure a medal after going down to Australia's Anja Stridsman.
The former World and Asian champion found the crowd favourite's power difficult to handle and was also troubled by her ill-fitting head guard.
"It was distracting and I think this other girl was very good. I could not handle the power of her punches. Besides, home turf always brings out the best in you, which was the case with her today," said the gracious-in-defeat boxer from Manipur.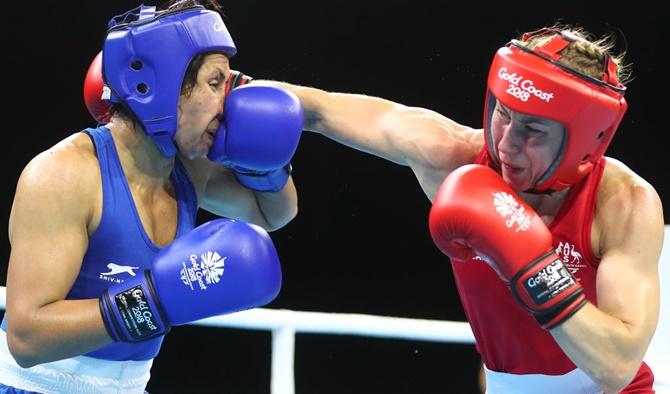 In the men's draw, Army boxer Solanki dodged a tricky opponent in Papua New Guinea's Charles Keama in his quarter-final bout.
The 21-year-old managed to evade several attempts by his opponent to head-butt in a bout he eventually claimed 5-0.
"It was a risky fight. He was trying to hit me but I think my reflexes were very sharp so I managed to outwit him," he said.
Joining him in the semi-finals was Vikas, a former Asian Games gold-medallist, after a power-packed performance against Zambia's Benny Muziyo.
Vikas, who claimed a gold at the Srandja Memorial, pummeled his opponent with sharp right hooks.
The Zambian looked dazed due to the ferocity of the blows he took on his face, made more severe by his poor defence.
In the evening session, the fast-rising Manish out-witted England European Championships bronze-medallist Callum Frencch to move into the semi-finals.
He will be up against Northern Ireland's James McGivern in his semi-final on Saturday.
However, last edition's bronze-medallist Pinki Jangra (51kg) will be without a medal this time after losing to England's Lisa Whiteside in her quarter-final bout.