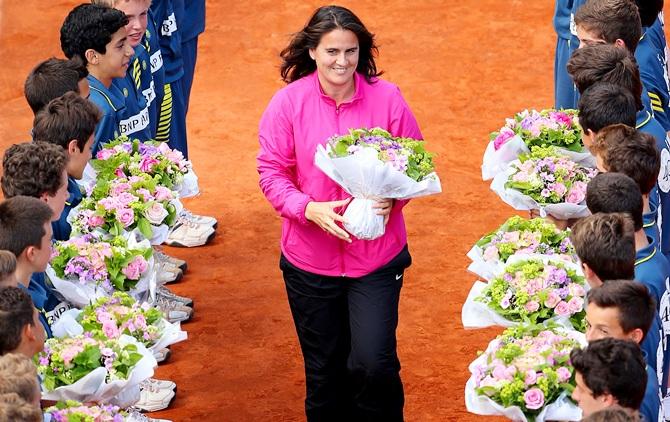 Former tennis player Conchita Martinez walks through a guard of honour. Photograph: Julian Finney/Getty Images
Conchita Martinez will take over as Spain's Davis Cup captain for the Group I tie away to Russia in two weeks following Friday's dismissal of Gala Leon, the Spanish tennis federation (RFET) said on Sunday.
It's going to get messier! Spain fires Davis Cup captain Gala Leon
A former Wimbledon champion who turned to coaching after she retired in 2006 Martinez, who's 43, leads Spain's Fed Cup team and will officially take charge of the men's team as well on Monday until the end of the 2015 season, the federation said in an emailed statement.
"The RFET sought the best solution for the difficult task our nation faces ... and established that it already had within its ranks a professional who enjoys the respect and esteem of the players and whose sporting career demonstrated her suitability for this undertaking," the statement said.
Leon, who had a career-high ranking of 27 as a player, was a surprise choice last year as Spain's first female Davis Cup captain to replace Carlos Moya.
Moya, a former World No 1, stood down after the five-times winners were relegated from the World Group following defeat by Brazil in a playoff.
Top players including Rafael Nadal and David Ferrer questioned Leon's appointment, with some of their main criticisms being that she was under-qualified and did not know the players.
Appointing Martinez may address some of those complaints, although the likes of Nadal and Ferrer appear unlikely to make themselves available for the July 17-19 tie in Vladivostok.
Martinez had spoken to the Spanish players before agreeing to take over, the federation said, without specifying which ones.
Spain's team is likely to comprise the relatively little-known Daniel Gimeno, Adrian Menendez, Inigo Cervantes and David Marrero, with possibly one of those being replaced by the higher-ranked Pablo Andujar, Spanish media have reported.
Spain need a win to have a chance of getting back into the elite World Group for next year's competition.
Leon was fired following the decision by Jose Luis Escanuela to step down as RFET president on Thursday after he was suspended indefinitely for failing to cooperate in a government probe into the federation's finances.
Escanuela was replaced by Fernando Fernandez-Ladreda, a professor of accounting and a politician in Spain's ruling People's Party (PP) in the local administration in Oviedo who was promoted from RFET vice president.