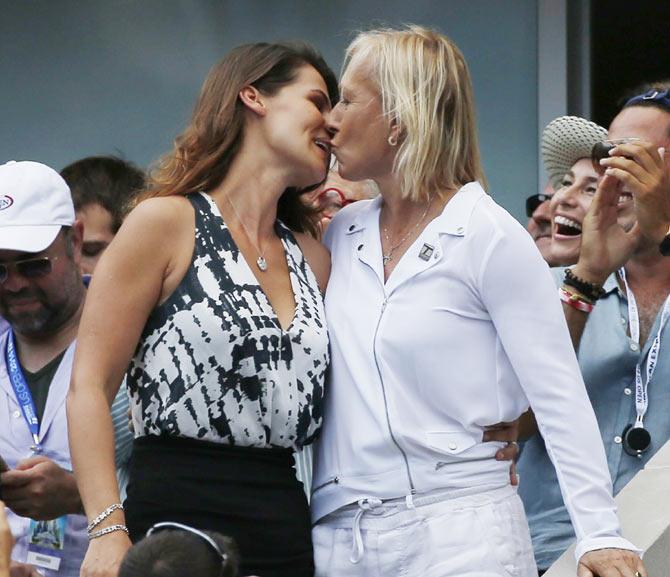 Tennis great Martina Navratilova kisses her partner Julia Lemigova (left) . Photograph: Mike Segar/Reuters
Fifty-eight-year-old tennis ace Martina Navratilova has married her long-term partner Julia Lemigova in New York, the BBC reported.
Same-sex marriage is legal in New York, where gay couples have had the right to wed since 2011, and 34 other states.
"I'm 58 years old -- I got married for the first time," Navratilova told the BBC shortly after the ceremony, details of which has thus far been scarce. 'It's about time, right? Growing up as a gay woman you just don't ever think about that."
And while going straight from the altar to an interview might faze some, Lemigova, 42, said that she's pretty used to it, considering Navratilova also popped the question on camera during the US Open.
Added Lemigova: "By proposing and marrying in such a public way, I think -- I hope -- will give an inspiration to the families set up like ours, that they, too, can be married legally one day."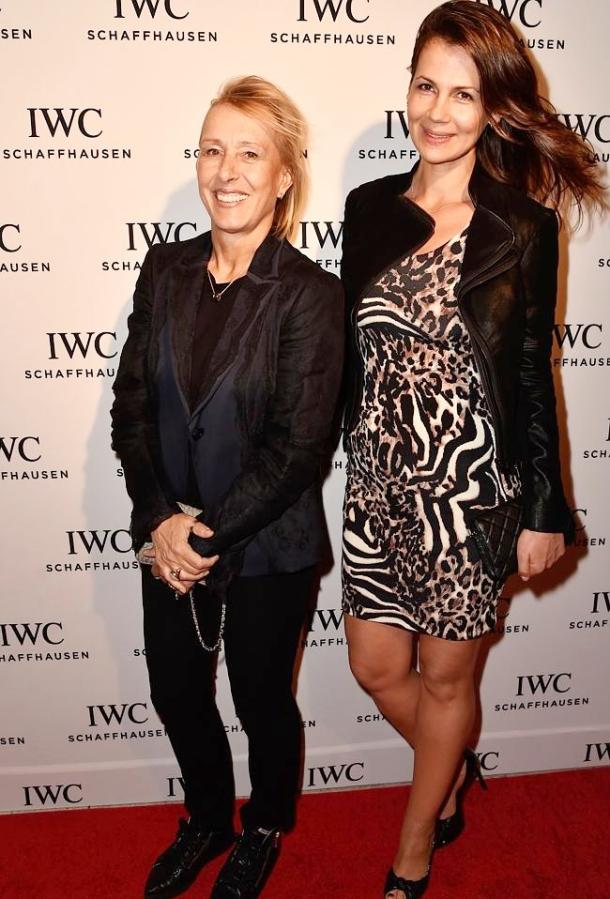 Martina Navratilova and Julia Lemigova. Photograph: Clive Brunskill/Getty Images
Navratilova made headlines in September when she proposed to Lemigova at the US Open Tennis Championships.
The tennis legend popped the question during a break while she was providing colour commentary for the men's matches and the moment was telecast on the Jumbotron, a large screen television, at the New York's Arthur Ashe stadium.
Navratilova got down on one knee and offered her girlfriend a diamond-studded ring, to which Lemigova teared up before embracing her and said 'yes'.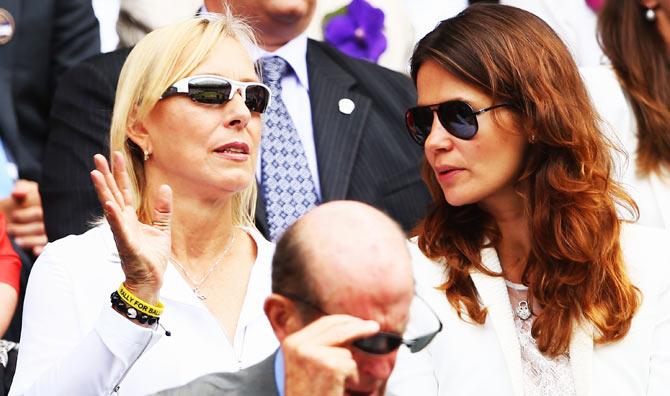 Martina Navratilova and Julia Lemigova. Photograph: Clive Brunskill/Getty Images
In addition to being a tennis broadcaster, the 18-time Grand Slam champion (in singles alone) is now venturing into coaching, announcing this month that she has joined Agnieska Radwanska's staff.
Navratilova has a famously rocky history when it comes to matters of the heart. She has been sued twice by former long-term girlfriends — once in 1991 and again in 2009. Both matters were settled out of court.
The Russian beauty Lemigova, a mother of two, is a successful businesswoman in her own right. She has a cosmetics brand called Russie Blanche.She was the last woman to represent the former Miss Universe beauty pageant in 1991. She was a runner-up in that year's competition.