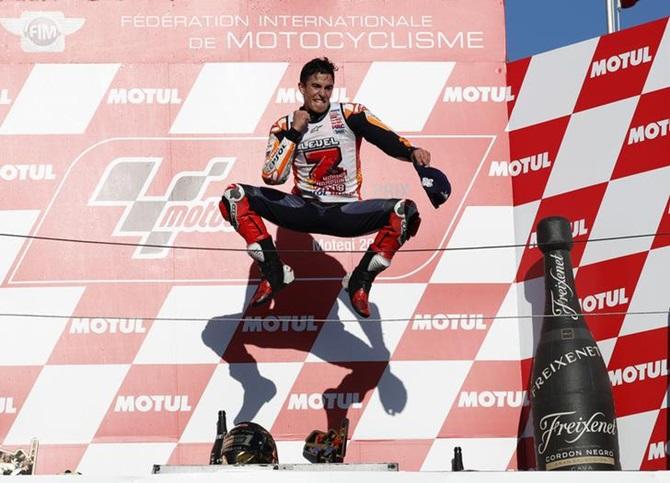 Spain's Marc Marquez wrapped up his third straight MotoGP championship with victory at the Japanese Grand Prix on Sunday after title rival Andrea Dovizioso fell on the penultimate lap while trying to find a way past the Honda rider.
The 25-year-old is now tied with Australian Mick Doohan on five premier class world titles, with only Italian's Valentino Rossi (seven) and Giacomo Agostini (eight) having won more.
Marquez, who had sealed two of his previous titles at Motegi, moved 102 points clear of Ducati's Dovizioso with three races remaining.
Dovizioso started on pole and led for most of the race before Marquez, who had started sixth on the grid, made his move with four laps left.
Marquez had been on the Italian's tail for much of the race and the pressure eventually told on the Ducati rider as he relinquished the lead.
Dovizioso attempted to move back past Marquez on the penultimate lap but pushed it too far and came off his bike. He recovered but eventually finished 18th.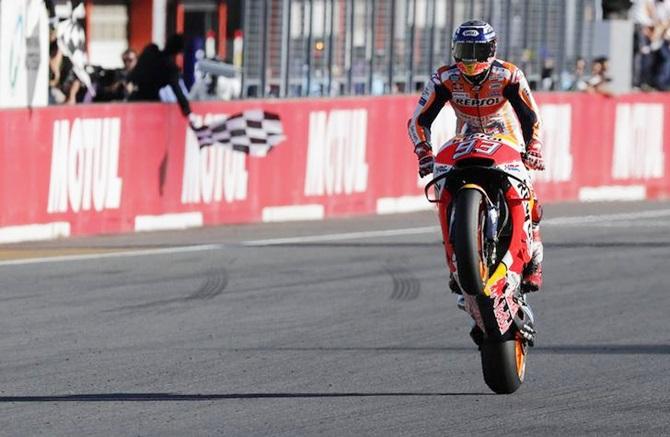 That left Marquez knowing he was going to secure his fifth title as he completed his final lap, shaking his head in disbelief at the achievement.
"I feel really, really good," said Marquez after celebrating with the Honda team, who were joined by the company's CEO Takahiro Hachigo at the manufacturer's home race.
"After Aragon I already felt, I already imagined that it will be here, but the good thing is when you have the first chance (to win the title), then you do it."
In a bizarre turn of events, Marquez dislocated his shoulder while celebrating on the track with British rider Scott Redding.
"I just lay there on the asphalt and my brother and Jose put it in again," motorsports website Crash reported the champion as saying.
"It was not the first time; maybe it was my weak point of the season because I dislocated it many times during training at home.
"In December I need to make a stop with the doctor and for next year it will be perfect."
Redding apologised for his role in the incident, adding: "Congratulations to @marcmarquez93 with 7 titles on there my babbbie. Once we were rivals "big rivals" now we have nothing but respect and fun!!! Sorry for the dislocated shoulder....."
Marquez pipped Dovizioso on the final lap of the Thailand Grand Prix last time out and while he did leave it quite as late at Motegi the result was the same.
Anand beats Sadhwani, Kidambi holds Kramnik in Isle of Man
Five-time World Champion Viswanathan Anand scored an expected victory over young gun Raunak Sadhwani while Grandmaster S Kidambi caused a huge flutter by holding Vladimir Kramnik to a draw in the first round of Isle of Man International Chess tournament.
On what turned out to be a tough day for the highly rated and fancied players, Anand maintained his cool amidst wild complications that once threatened to ruin his position against young International Master Sadhwani who played with white.
Seeded sixth here, Anand went for the variation he had chosen to beat Eric Hansen of Canada in the just-concluded Chess Olympiad but clearly the Nagpur kid was much better prepared. The idol faced some tough time before he could reach an endgame where his extra pawn did the talking.
Kidmabi showed his solid game against fourth seed Kramnik. The Chennai based is known for his deep opening knowledge and that helped initially in maintaining the balance.
Once the endgame approached, former World Champion Kramnik tried many tricks but they were all successfully thwarted by the Indian.
This was not all from the strong Indian contingent as IM C R G Krishna also played out a draw with Wesley So of the United States.
Krishna traded troubled waters for a long time but stood up float in what was a dramatic game of the day.
The Indian saga is likely to continue as there are 35 Indians in the fray out of 165 participants.
On the flip side from the Indian perspective, Grandmaster Surya Shekhar Ganguly was held to a draw by veteran GM Juan Manual Bellon of Sweden.
Important Results after Round 1 (Indians unless stated): S Kidambi drew with Vladimir Kramnik (RUS); Wesley So (USA) drew with C R G Krishna; Raunak Sadhwani lost to Viswanathan Anand ; Sergey Karjakin (RUS,) beat Soumya Swaminathan; Richard Rapport (HUN,) drew with Harshit Raja; Arjun Kalyan drew with Le Quang Liem (VIE,); David Howell (ENG) drew with Rahul Srivastava; Hemant Sharma drew with Gawain Jones (ENG); Alexie Shirov (ESP) drew with S Ravi Teja; Surya Shekhar Ganguly drew with Juan Manual Bellon Lopez (SWE); R Vaishali drew with Bogdan-Daniel Deac (ROU).
Ailing Svitolina halts news conference after Kvitova win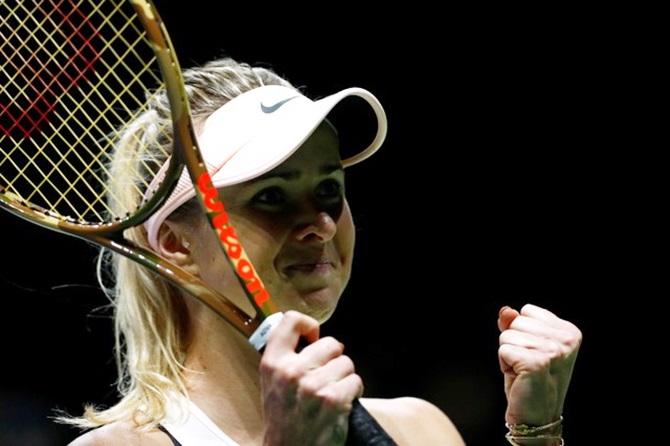 Elina Svitolina had little time to celebrate her victory over Petra Kvitova at the WTA Finals on Sunday. The Ukrainian fell ill in the post-match news conference following her 6-3, 6-3 triumph at the Singapore Indoor Stadium.
Svitolina tore up the form book by beating her Czech opponent for the first time in eight attempts dating back to 2014 but the 24-year-old soon halted questions about her win when she became light-headed in the media centre.
After leaving the stage and taking a few minutes to compose herself, Svitolina refused to elaborate on the exact nature of her illness, saying "I'm just not feeling good" when asked what the problem was.
Svitolina, who crashed out in the round robin phase of her debut appearance at the eight-woman season-ending tournament a year ago, will be hoping she can recover in time for her second White Group match on Tuesday.
Defending champion Caroline Wozniacki and Karolina Pliskova are the other players in the pool, with Svitolina due to play the winner of that contest next.
Before she fell ill, Svitolina spoke of how important it was to finally beat a player who had a 7-1 head-to-head advantage over her before Sunday's clash.
After she returned to the stage, Svitolina said she hoped to recover in time for what she expected to be another tough match.
Bolt's agent says Mariners make contract offer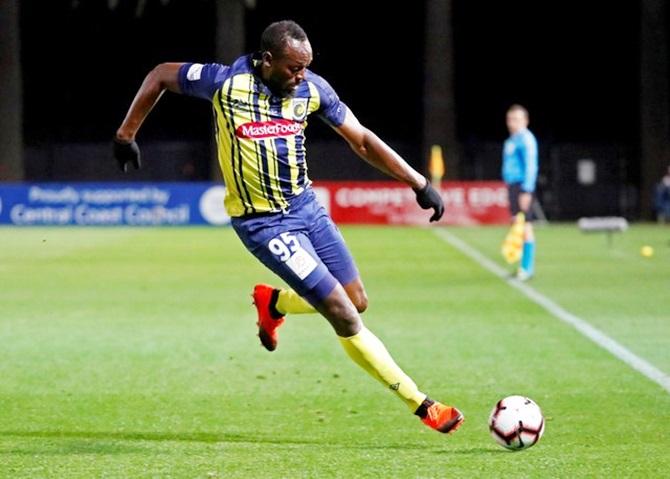 Eight-time Olympic sprint champion Usain Bolt has been offered a contract by Australian professional side Central Coast Mariners, according to his agent Ricky Simms.
Speed king Bolt, 32, scored two goals for Mariners in a trial match this month as he seeks a switch to soccer.
"In response to the media stories, yes, Usain has been offered a contract," Simms was quoted as saying by Fairfax Media, declining to comment further.
Bolt, who retired from track and field last year, was not involved in Mariners' A-League opener against Brisbane Roar on Sunday, after which coach Mike Mulvey said he knew nothing about any contract for the Jamaican.
"That's for a few pay grades above my level," Mulvey was quoted as saying in Australian media. "I do appreciate how important this story is for the rest of the world.
"But you have a look at our frontline today and you wonder if he could get into any of those positions, wouldn't you?"
Isner welcomes Wimbledon's new tiebreak rule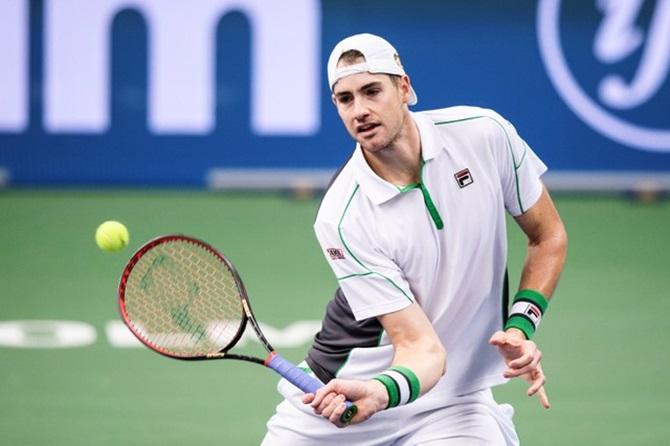 Tennis's marathon man John Isner has welcomed Wimbledon's decision to introduce tiebreaks at 12-12 in the final set.
The American became something of a Wimbledon cult hero when beating France's Nicolas Mahut 70-68 in the fifth set in 2010 - a record-breaking duel lasting 11 hours five minutes and spanning three days and in which the last set alone (eight hours 11 minutes) would have broken the previous longest-match record.
After his 2010 exploits Isner, 33, was involved in the second-longest Wimbledon match in this year's semi-finals when he went down 26-24 in the fifth set to South Africa's Kevin Anderson - a battle lasting six hours and 36 minutes.
That led to further calls to bring in sudden-death tiebreaks and Wimbledon's organisers announced this week that next year's Championships would use them after 24 games in deciding sets.
"I have said all along 12-all is good," he told BBC Radio 5 on Sunday. "That is sensible - you're getting people who like the advantage and people who like tie-breaks.
"It is bucking tradition but a lot of people believe that is not a bad thing."
The world number 10 even joked that the new ruling should be named after him.
"The next match that gets to that, they should just say we will now play the Isner Rule," he said.
"I don't think they are going to do that, but I think I've been a big driving force for it."
Wimbledon has followed the US Open which has employed tiebreaks at 6-6 in deciding sets, but by allowing a set to reach 12-12 organisers say they are maintaining tradition and allowing dramatic deciding sets to evolve.
First ATP title for Britain's Edmund
British number one Kyle Edmund won the first ATP title of his career when he beat Gael Monfils of France 3-6, 7-6(2), 7-6(4) in the final of the European Open in Antwerp on Sunday.
Edmund, ranked 15 in the world, lost a set for first the time in the tournament but fought back to win in just under two and a half hours.
The 23-year-old dominated the second-set tiebreak to draw level and then won the third set on another tiebreak before shedding tears of joy.
Edmund had reached his first ATP final in April, losing to Pablo Andujar in Marrakesh, shortly after replacing the injury-hit Andy Murray as British number one.