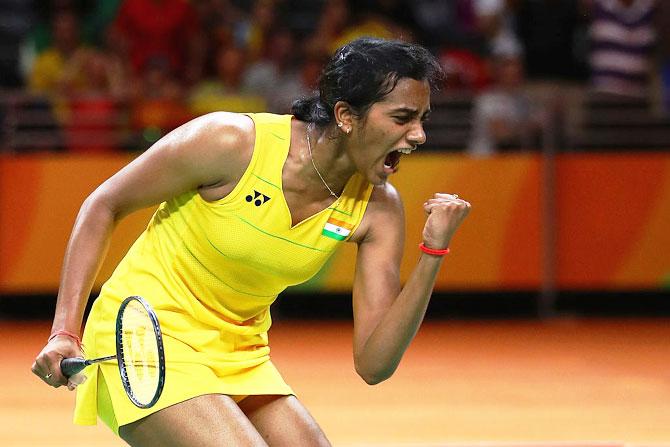 IMAGE: India's P V Sindhu celebrates. Photograph: Clive Brunskill/Getty Images.
Top shuttlers, including Olympic champion Carolina Marin of Spain and Rio silver medallists P V Sindhu, will be for grabs when the high-profile Players' Auction for the lucrative Premier Badminton League (PBL) gets underway in New Delhi on Wednesday.
Besides Marin and Sindhu, Olympic bronze winner Viktor Axelsen of Denmark will be among the 16 Olympic medallists who have confirmed their participation at the second edition of the event to be held from January 1 to 14.
PBL, which is the revamped edition of the Indian Badminton League (IBL), will, however, see the top shuttlers from China and Japan give it a miss as they would be busy with their respective national tournaments.
The 15-day league will see six teams, namely Delhi Acers, Mumbai Rockets, Chennai Smashers, Hyderabad Hunters, Awadhe Warriors and Bangalore Blasters (earlier Bangalore Top Guns) battle for a total prize purse of Rs 6 crore, making it the highest prize money badminton tournament in the world.
The six-team strong competition will be held in state of the art stadia across the country, including Hyderabad, Bengaluru, Mumbai, Chennai, New Delhi and Lucknow.
Each franchise will be splashing Rs. 1.93 crore to build a formidable team, with the individual price for the top players likely to go up to a phenomenal amount of Rs 65 lakhs for the two-week league.
As many as three men's singles players, including Axelsen, Jan O Jorgensen of Denmark and Sun Won Ho of Korea, and four women's singles players, including Marin, Sindhu, Saina Nehwal and Sung Ji Hyun of Korea, have been clubbed in the icon bracket.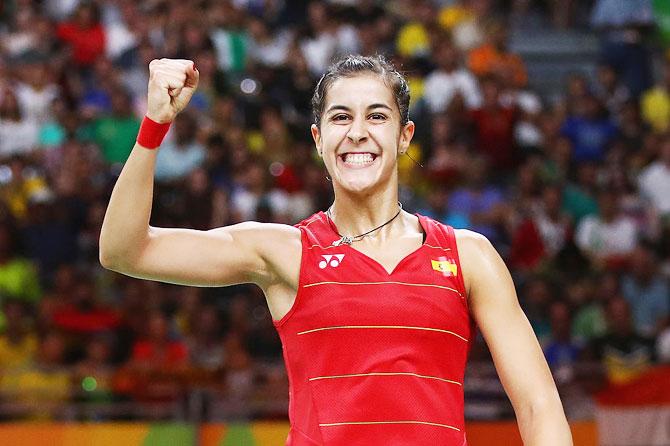 IMAGE: Spain's Carolina Marin celebrates a point against India's P V Sindhu during the women's singles gold medal match at the Rio Olympics. Photograph: Clive Brunskill/Getty Images.
All available players will go under the hammer but teams have the option of retaining three players by invoking the Right to Match option and paying up the final bid price.
BAI President and Chairman of PBL, Dr Akhilesh Das Gupta, said: "It is a matter of immense pride for us to be back with the new edition of the PBL. It was a huge success last year and we promise to not only replicate the same level of success but to also strive to make it even better.
"We are confident of offering a highly exciting League this year which will enthuse our lakhs of fans."
Pullela Gopichand, National coach and Chief Advisor of PBL, said: "Thanks to the spectacular performance of Indian Players at the Olympics, the game has added a large number of new viewers, so our effort will be to make the League as exciting and interesting as possible.
"We are bringing in certain innovations in the format of the League to make it even more spectator-friendly."
The Acers are owned by Infinite Computer Solutions, while the Smashers and the Hunters are owned by Wone Pvt. Ltd and Agile Security Force Pvt. Ltd respectively.
Warriors, which has been in the League since its inception is owned by Sahara Adventure Sports Limited, while the Mumbai team is owned by Medhavi Sports Pvt. Ltd.
The Bengaluru team is owned by the consortium that has invested in Kerala Blasters, an India Super League team, and hence Bangalore Top Guns has been rechristened as Bangalore Blasters.