Maradona to be discharged within days, says doctor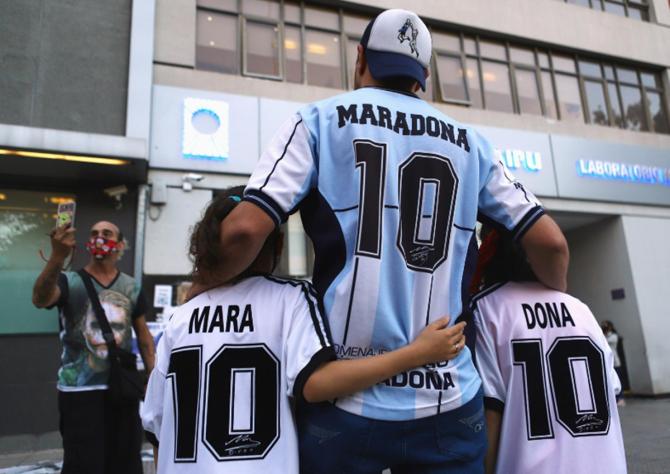 Argentine soccer star Diego Maradona is recovering well from a brain operation and post-surgery complications and should be discharged over the next couple of days, his personal physician said on Monday.
"Diego wants to go home and we are evaluating his discharge," Leopoldo Luque told reporters outside the hospital where the 60-year old Maradona was operated on last week for a subdural haematoma, a blood clot on the brain.
"We'll talk about where he goes later but for now we know that Diego is doing very well."
The former Barcelona, Napoli and Boca Juniors player was kept in over the weekend suffering from withdrawal symptoms caused by alcohol dependency but Luque said he would likely be discharged either "tomorrow or the next day."
The hospital stay was the latest in a string of health scares for the current coach of first division club Gimnasia y Esgrima.
Maradona, who won the World Cup with Argentina in 1986 and is considered one of the greatest players of all time, has suffered frequent periods in hospital over the years, often due to his extravagant lifestyle.
Rapinoe criticises Man Utd over delayed investment in women's team
World Cup-winning U.S. midfielder Megan Rapinoe has denounced the lack of investment in women's soccer around the world, saying it is "disgraceful" that a club like Manchester United had taken so long to revive their team.
United faced criticism for not forming a team after their women's side was scrapped in 2005 and were granted a licence to play in the second tier Championship in 2018.
The team immediately earned promotion to the Women's Super League (WSL) and finished fourth in their maiden campaign in the top flight. They lead the table after six games this season following Sunday's 1-0 win over Arsenal.
"Women's football in England is the same as in America. It's so far behind because of what we've had to overcome in the lack of investment," Rapinoe told the BBC.
"It's 2020. How long has the Premier League been around? And we're only just seeing a club like Manchester United put effort and pounds towards a women's team? Frankly, it's disgraceful."
Several U.S. women's international players have joined the WSL this season with Tobin Heath and Christen Press signing for United, Rose Lavelle and Sam Mewis moving to Manchester City and Alex Morgan sealing a loan switch to Tottenham Hotspur.
Rapinoe, who claimed the Ballon d'Or in 2019 after a career-defining year in which she won her second World Cup title, opted out of National Women's Soccer League competitions this year.
"I've had a few teammates go abroad and play, while I'm training and trying to keep fit in the hopes that eventually we'll be out of this hellscape," Rapinoe said.
"I want to keep playing. I'm definitely not anywhere near retirement - I absolutely want to play at the Olympics."
Pogba cannot be happy with situation at Manchester United, says Deschamps
Paul Pogba "cannot be happy" with the situation he finds himself in at Manchester United, France head coach Didier Deschamps said on Monday.
The French midfielder has started just four of United's seven Premier League games this season, and just one of three in the Champions League. Pogba's future at United remains uncertain after he suggested last month that he "dreams" of playing for Real Madrid.
"He is in a situation with his club where he cannot be happy, neither with his playing time, nor with his positioning," Deschamps told reporters.
"He is not in his best period, he has had a series of injuries and the COVID-19 which has hit him quite hard. He needs to find his rhythm.
"With me, there is no such concern. When a player is in discomfort in his club, obviously, he is happy to play for the France team. He will tell me about his feelings and as I know him very well, it will go in a positive direction."
Deschamps was speaking ahead of France's friendly against Finland on Wednesday, before Les Bleus face Portugal and Sweden in the UEFA Nations League on Nov. 14 and 17.