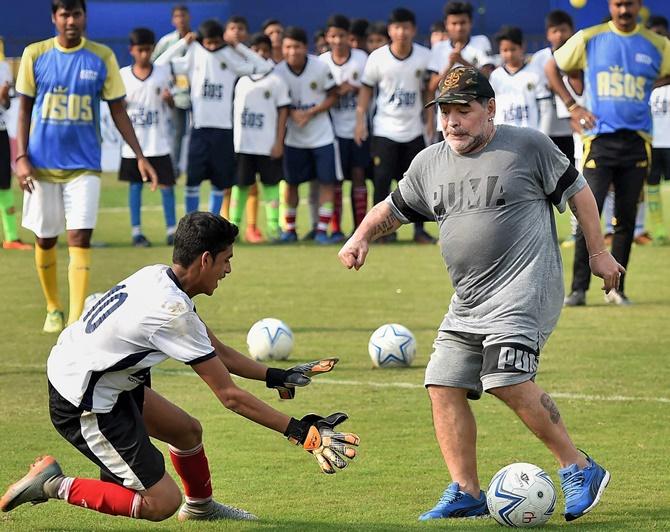 IMAGE: Argentinian football legend Diego Maradona shows his skills during a football workshop at Barasat. Photograph: Ashok Bhaumik/PTI
Diego Maradona showed glimpses of his famous dribbling skills, his deft left-footed touches and even crooned Spanish songs as he mesmerised a bunch of school children during an event in Barasat on Tuesday.
On an unusual muggy winter afternoon, the workshop with about 60 school children, including girls, at a private sports academy at Kadambagachi, Barasat, about 35km from Kolkata turned out to be an elaborate one.
The 57-year-old, who turned up in shorts, enjoyed every bit of it and the gruelling session literally drained him as he was seen drenched in sweat.
But the 'God of football' had no complaints and was eloquent in his three-minute speech in Spanish.
"I'm here for football. It is a big step, that we take with the minister -- to uplift football in India," he said about his three-day private trip which was co-sponsored by Trinamool Congress MLA Sujit Bose, among others.
"India really has good players and a football school of boys. Your minister and I must stop this notion that football wants India and India wants football. Together with the minister and the people we will bring football. I have always been very well received in India. Thanks and kisses!" he signed off.
The Argentine football legend was seen shouting and making the 'young guns' make two queues as he played passes for them to shoot from the spot.

Maradona gives Diego-Dada match a miss, Ganguly disappointed
Diego Maradona may have made the trip to the city after several postponements, but the Argentine legend skipped the much-hyped 'Diego versus Dada' exhibition match in Kolkata, leaving cricket icon Sourav Ganguly disappointed.
A poorly-organised show meant that the 57-year-old became tired on an unusually sultry December afternoon and left after just kicking off the match and exchanging pleasantries with Ganguly and his team.
Ganguly, who watched Maradona's 1986 World Cup triumph, thus missed out on a chance to play against his childhood icon.
"It would have been great to have played with him but he could not play," Ganguly said after featuring in the seven-a-side exhibition match.
"Age has caught up with him but he's too good a player. I'm a huge, huge fan of his, I have seen him win the World Cup in 1986. It was a treat to see him from close quarters."
The 'Diego vs Dada' match in the outskirts of Kolkata was the central theme of Maradona's three-day trip who is here for the second time after his euphoric 2008 visit.
There was no stage on the ground and Maradona was seen coming in and out of the dugout.
On his last visit, Maradona was ferried by a chopper to Maheshtala, situated on the outskirts of the city for a similar football workshop.
But this time he endured a bumpy 35-km ride on a potholed road to a remote place called Kadambgachi.
When the 40-minute match was about to start, Maradona had little energy left to play.
He, however, lined up both the teams and kick-started the proceedings. The spectators chanted Diego Diego, as well as Ganguly Ganguly, who played in his jeans.
Ganguly played for both the sides, first turning up in whites and then slipping on to a blue jersey.
Bengal captain Manoj Tiwary also took part in the match, which also included former medium pacer Shib Shankar Paul.
A host of former footballers including the likes of Shyam Thapa, Prasun Banerjee, Sishir Ghosh, Debjit Ghosh, Biswajit Bhattacharya, Hemanta Dora, Dipendu Biswas, Alvito d'Cunha and Abhijit Mondal were also present on the occasion.