Maradona 'confused', to spend more time in hospital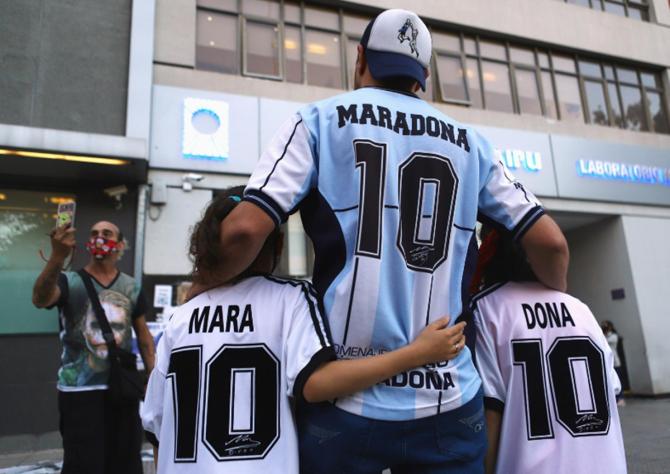 Argentina soccer great Diego Maradona has been sedated by doctors to help him cope with withdrawal symptoms and will remain in hospital, even though he would like to leave, his personal physician said on Friday.
"He wants to leave but he's going to stay," Leopoldo Luque told reporters in a short statement outside the Buenos Aires clinic were Maradona is being treated.
"This was one of the few times where Diego has been told no."
Luque said the former Barcelona, Napoli and Boca Juniors player was being kept in after suffering some "episodes of confusion" due to enforced abstinence.
Luque did not say what Maradona was abstaining from but the Argentine has previously fought much publicised battles against drink and drug addiction.
The 60-year-old was taken into hospital on Tuesday and underwent emergency surgery for a subdural haematoma, a blood clot on the brain.
Luque said Maradona had been "sedated to help ease the process" of withdrawal.
"Diego is very difficult, very difficult," he said. "You can't imagine. We are trying to be stronger than he is."
Maradona, who won the World Cup with Argentina in 1986 and is considered one of the greatest players of all time, has suffered frequent periods in hospital over the years, often due to his extravagant lifestyle.
FIFA to push on with new 'cap' and rules for agents
FIFA will push ahead with plans to cap commissions on transfer fees for agents and enforce a licence scheme, even if its new regulations are opposed by some agents.
FIFA announced last September a cap that would limit agents of the selling club to 10% of the transfer fee, and 3% of the player's fee for agents of the buying club.
The new regulations, which are scheduled to take effect in January, 2022, will also force agents to become licensed and undergo an exam conducted by FIFA, as well as make public all transactions, allowing fans to see how much agents are paid on deals.
FIFA said on Thursday that it is starting its third and final "consultation process" on the new regulations before submitting the reforms to a vote at the FIFA Council with the aim of bringing them into effect next season.
Leading agents have been critical of the proposals and threatened legal action.
Emilio Garcia Silvero, FIFA's Chief Legal and Compliance Officer, told reporters that the ruling body would continue to consult with agents but was determined to push forward with the changes.
"If we can't agree with the agents then we will move ahead. We are committed to this," he said, adding that the proposals should not be seen as hostile to agents.
"This is not a project against the agents, this is a project for the agents, that is a very important message," he said.
"We would like to work with them, they play a highly relevant role in football.
"There are hundreds and thousands who are operating in a proper way," added Garcia Silvero, who said a new Football Agents Disputes Tribunal would help agents who found themselves not getting paid on international deals.
"This is not a project against agents, those who see this (as) a project against agents, it is because they are hiding something," he added.
"There are a big group of agents who are also happy with the basic principles and we are all committed to reach a final agreement and a consensus."
FIFA said that commissions paid to agents involved in international transfers totalled a record $653.9 million in 2019, four times more than they earned in 2015.
The process of becoming an agent will involve a "character test" and an annual fee as well as continued education and relevant insurance will all be compulsory.
Agents will be barred from holding any interest, directly or indirectly, in a football club or a federation or other football body.
Contracts for commissions should be set out in advance in writing under the new system, which aims to end late claims for commissions when a deal is being closed.
A previous much looser licence scheme was abandoned by FIFA in 2015.
UEFA says testing makes soccer among safest environments in the world
UEFA has overseen 61,859 COVID-19 tests since August, allowing more than 500 European matches to be played and making soccer one of the safest environments in the world, it said on Thursday.
The European soccer body, which has been criticised by some media for pressing ahead with international football during the pandemic, said that only 340 of those tests had been positive -- 0.55% of the total -- and only 3% of matches had been cancelled.
"The (protocol) that we put in place is robust and ensures the safety of all those involved, even in these trying times when the pandemic is progressing across the continent," said UEFA president Aleksander Ceferin. "It gives us confidence that our competitions will be played as planned."
"It is a tribute to those involved and it demonstrates that matches can be played safely."
Describing it as a massive cross-continent effort, UEFA said that, on average, there had been 53.9 tests per team, per match, and less than half the positive results had been from players.
"UEFA's Return to Play Protocol made professional football among the safest environments in the world," it added.
UEFA said that, since August, it had staged matches in eight competitions -- the Champions League, Europa League, Women's Champions League, Youth League, the Nations League, Euro 2020 playoffs, Under-21 and Women's Euro qualifiers.
UEFA president says handball rule is causing discomfort, frustration
UEFA president Aleksander Ceferin has asked FIFA to change the handball rule, saying the current interpretation has led to unfair decisions which had caused "growing frustration and discomfort" in the sport.
In a letter to FIFA president Gianni Infantino, Ceferin said penalties had been awarded in situations where it was impossible for the defending player to avoid contact with the ball, according to a source with knowledge of the matter.
Following changes to the law in 2019, handball can be awarded in cases where the player's arm has made the body "unnaturally bigger" or if it is raised above the shoulder, whether it was intentional or not.
The idea was to make the law clearer but Ceferin, the head of European soccer's governing body, believes it has had the opposite effect.
"The attempt to strictly define the cases where handling the ball is an offence has resulted in many unfair decisions which have been met with growing frustration and discomfort by the football community," he said.
Ceferin's appeal has followed a spate of decisions in domestic and international competition where players have conceded penalties or had goals disallowed for unwittingly touching the ball.
World soccer body FIFA has four votes on the rule-making International Football Association Board (IFAB) while the associations of England, Scotland, Wales and Northern Ireland have one each.
Ceferin added that defenders had been forced to adopt unnatural positions, such as putting their arms behind their backs to avoid the risk of their arm being accidentally hit by the ball.
"There are also plenty of situations where hands/arms exposed outside the profile of the body in moves which are understood to be natural, unintentional and unavoidable have been punished with penalty kicks," he said.
"This is no good service to the game."