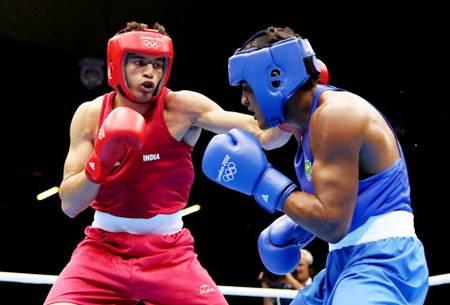 Commonwealth Games silver-medallist L Devendro Singh (49kg) stormed into the semi-finals, while Manoj Kumar (64kg) and Sumit Sangwan (81kg) entered the quarters to be just one win away from clinching Olympic berths at the International Boxing Association's (AIBA) World Qualifying Tournament in Baku on Tuesday.
Fourth seed Devendro, who hammered South Africa's Bandla Sibusiso 3-0 in the quarterfinal, is assured of a medal after Tuesday's win but will have to make the summit clash to qualify for Rio as only two quota places are up for grabs in the 49kg division. He will face Spain's Samuel Heredia, who stunned top seed Dmytro Zamotaev of Ukraine.
"It was a very good performance by Devendro. He is a boxer with a big heart and he keeps showing that in every bout he fights," national coach Gurbax Singh Sandhu said.
Meanwhile, former Commonwealth Games gold-medallist Manoj and Sumit will be through to the Rio Games if they enter the semi-finals.
While Manoj got the better of Bulgaria's Ismetov Ayrin Smetov 3-0, Sumit also stormed past Sandagsuren Erdenebayar of Mongolia 3-0.
Manoj was the first to take the ring and he rallied to beat Ismetov in his pre-quarterfinal contest. The Indian fought back after losing the opening round against an aggressive rival.
"Manoj endured a very tough bout but to his credit, he not just hung in there but also fought back brilliantly. His opponent was a very sharp puncher but he sustained a cut in the second round which slowed him down. Manoj took advantage of it and came back," Sandhu said.
The former Asian bronze-medallist will now face Tajikistan's Rakhimov Shavkatdzhon, who defeated Bahrain's Williams Rashield in his last-16 stage contest.
Sumit, on the other hand, hardly broke a sweat to out-punch Erdenebayar in his pre-quarterfinal bout. Sumit will next be up against Russia's Petr Khamukov, who got the better of Slovakia's Denis Lazer.
"Sumit fought with a lot of calmness. He applied his brain and made sure that he never got too close to his opponent. It was a very dominating performance by him," Sandhu said.
Late last night, former World Championships bronze-medallist Vikas Krishan (75kg) also advanced to the pre-quarterfinals with a 3-0 win over Japan's Takahashi Makoto. The Indian will face Georgia's Kvachatadze Zaal later on Tuesday.
The tournament has 39 qualifying spots up for grabs -- two in the 49kg category, five each in 52kg, 56kg, 60kg, 64kg, 69kg, 75kg and 81kg, and one each in 91kg and +91kg. Over 400 boxers from more than 100 countries are vying for these slots in the final qualifying tournament for amateur boxers.
India have not sent any entry in the 56kg category as Shiva Thapa has already qualified for the Rio Games during the Asian qualifiers in March.
Image: India Sumit Sangwan. left, in action against Yamaguchi Falcao Florentino of Brazil during the men's heavyweight (81kg) bout at the London Olympics.
Photograph: Scott Heavey/Getty Images