Frequent changing of coaches wasn't something associated with Manchester United.
David Moyes lacked the mentality to manage a champion, even a top-four, club.
Louis van Gaal's tenure was a work in progress.
As Manchester United embarks on a new era following van Gaal's exit, Bikash Mohapatra/Rediff.com offers a diagnosis of what went wrong with the most successful Premier League club after Alex Ferguson called it a day.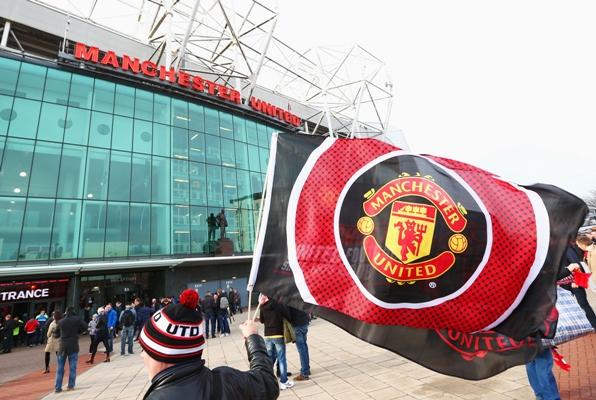 IMAGE: A Manchester United supporter waves the flag prior to a Premier League game at Old Trafford. Photograph: Clive Brunskill/Getty Images
Louis van Gaal has been sacked!
The sacking, I am afraid, has more negative repercussions for Manchester United than positive.
For starters, the instability at Old Trafford continues...
Since the venerable Alex Ferguson called it a day in 2013, United is in turmoil. Be it the appointment of a successor to the Scotsman, the transfers or results, the Red Devils have struggled.
More importantly, the manner in which things have been handled in the last few seasons suggest that United, the most successful Premier League club, is in a hurry to shun its legacy and join the bandwagon of England's newly rich, and recently successful clubs -- the likes of Chelsea and Manchester City.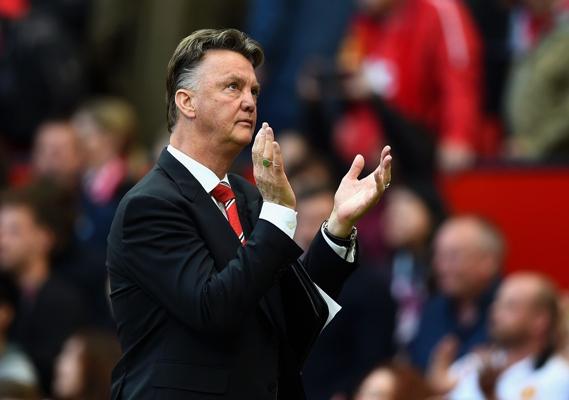 IMAGE: Louis van Gaal, then Manchester United manager, applauds the fans after a Premier League game at Old Trafford. Photograph: Laurence Griffiths/Getty Images
How else can one explain the appointment of three managers, in three seasons, since Sir Alex's departure?
How can one justify the millions of pounds spent of fringe players who struggle to cope with the expectations?
How does one describe the desperation to sign a marquee player (Angel Di Maria) and then sell him at a loss?
All the questions aren't that difficult to answer.
In fact, the explanation is three fold.
The club has made three key mistakes because of which it finds itself in the precarious position it is now in.
Fergie outlived his tenure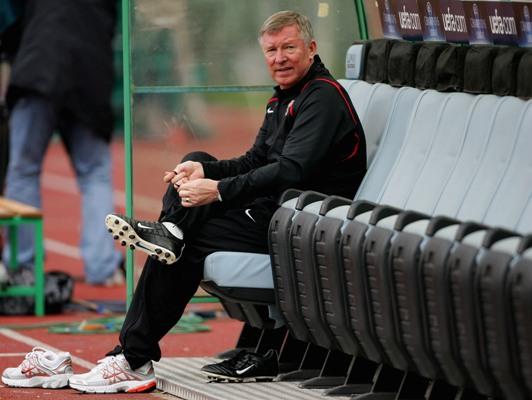 IMAGE: Sir Alex Ferguson during a Manchester United training session. Photograph: Getty Images
Make no mistake, this in no way is being critical of Sir Alex.
United's most successful manager with 38 trophies -- including a remarkable 13 Premier League titles -- is beyond any criticism.
However, if one makes an assessment of the Scotsman's 26-year tenure at Old Trafford, it is clear that the legendary figure outlived his tenure.
In fact, ahead of the 2001-2002 season, Fergie had announced his decision to quit when his contract expired. In December 2001, he shelved his plans, the desire to win a second Champions League title playing a crucial part in changing his mind.
That elusive second success did come, at the expense of a fellow Premier League side (Chelsea) in 2008.
In hindsight, Fergie could have reconsidered his decision at that juncture.
In the last five years of his tenure, United did win, but the results were churned more owing to their reputation than impressive displays.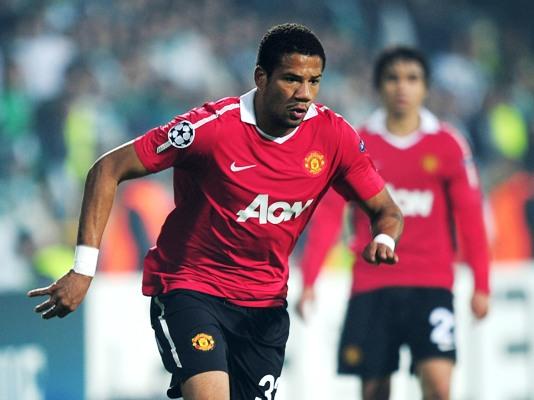 IMAGE: Manchester United flop Bebe. Photograph: Getty Images
In this period, the club came from behind to either win or draw, on many occasions.
Besides, there was an error of judgment on Fergie's part about the acquisition of players. Most of the players the Scotsman signed in his final years at Old Trafford failed to live up to expectations.
On one hand there were erratic, yet sporadically successful, players like Dimitar Berbatov and Anderson; on the other there were disasters like Bebe, Gabriel Obertan, Rafael, Wilfried Zaha and Zoran Tosic.
The Red Devils suffered as a result.
In Europe, in particular, United struggled against the best, the two Champions League final defeats at the hands of Pep Guardiola's Barcelona (2009, 2011) and the quarter-final reverse to van Gaal's Bayern Munich in 2010 being cases in point.
The humiliating reverse at the hands of Marcelo Bielsa's unheralded Athletic Bilbao side in March 2012 was another significant pointer to the club's frailties.
The fact that United kept winning consistently at the domestic level during the period camouflaged the failings of these acquisitions.
Fergie's successor
IMAGE: Former Real Madrid and Chelsea manager Jose Mourinho. Photograph: Getty Images
For starters, Jose Mourinho, now tipped to take over at Old Trafford, was available at that time.
The Portuguese manager had left Real Madrid and was on the lookout for a new club. Managing United always interested him.
Carlo Ancelotti recently revealed that he had met Sir Alex over lunch to discuss the possible successor. By then, the Italian had already committed to Real.
The United hierarchy did not deliberate on other options. They had made up their mind.
David Moyes was to take over the responsibility from his fellow Scotsman.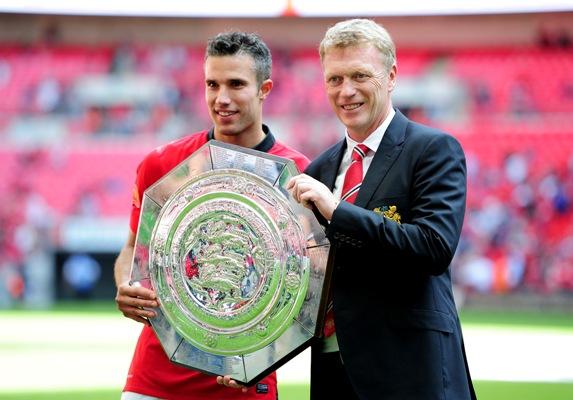 IMAGE: Robin van Persie and David Moyes with the Community Shield. Photograph: Getty Images
Now, Moyes is a good manager. No doubt about it. But there is a problem...
He did not know what was it like to manage a big club, how to deal with the pressure that comes gift-wrapped with the position.
To put it bluntly, he lacked the mentality to manage a champion, even a top four, club.
Having managed Everton for 11 years he had failed to lift the Merseyside club from the mid-table. Besides, for all his success as a manager, he won nothing at all.
The Community Shield he won, shortly after taking over at Old Trafford, was the first trophy of his 15-year-career.
It was palpable that he would struggle to assert himself in a club used to winning big prizes. The United think-tank failed to pre-empt this perceivable problem.
The result, United finished the season outside the European places, and Moyes was sacked after only 11 months in charge.
That he went on to join Real Sociedad reiterates the fact that he wasn't the right man to manage a big club, let alone succeed Fergie.
Persisting with van Gaal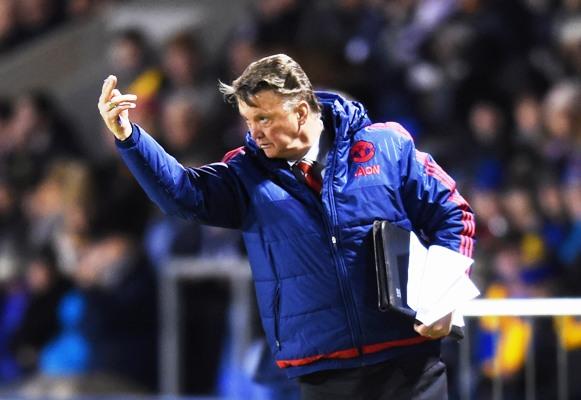 IMAGE: Louis van Gaal during an FA Cup game. Photograph: Michael Regan/Getty Images
Louis van Gaal, tipped to take over from Fergie in 2002, eventually arrived at Old Trafford 12 years later.
The expectations were high, partly owing to his glittering resume -- that included seven league titles in three countries and multiple successes in Europe -- and partly owing to the fact that in his previous assignment he had taken an under-strength Dutch side -- that not many gave a chance of progressing from a group that included Spain and Chile -- to a third place finish at the 2014 World Cup, the Oranje remaining unbeaten in the tournament.
Two years later, the jury remains divided as regards the Dutchman's tenure at United.
Those demanding his eventual ouster could always justify that his playing style was very un-United, that the 'philosophy' he kept talking about throughout never really translated into consistent performances.
And despite spending close to 250 million pounds he struggled to deliver in terms of results -- failure to negotiate through an easy group in the 2015-2016 Champions League and failing to qualify for the blue ribbon event this season is unpardonable for a club of United's stature.
Some may point out that he is an arrogant and obdurate old man, clueless about what he was doing and struggling to meet the demands of the Premier League. That his style of football was 'boring.' That he had lost the dressing room, the support of the fans.
Still others can assert that his United side, though defensively strong, failed to score goals -- only 49 scored in the league last season can verify that assertion.
IMAGE: Marcus Rashford of Manchester United celebrates the victory over Manchester City. Photograph: Laurence Griffiths/Getty Images
All of these reasons are true, to an extent.
While citing van Gaal's tenure as a failure, his critics conveniently ignore the good part.
The 64 year old deserves credit for clearing the dead wood acquired by the club in Fergie's final years. He also needs to be applauded for the fact that he gave all of these players opportunities before sanctioning their departure.
For someone who came with a reputation of encouraging youth, van Gaal has done his reputation no harm.
The Dutchman is credited with handing star players like Patrick Kluivert, the De Boer brothers, Marc Overmars, Xavi, Andres Iniesta, Luis Enrique, Arjen Robben, Thomas Mueller, David Alaba and many others their first major opportunity, and leaves Old Trafford having unearthed a number of young talents.
Not only did he oversee the functioning at the club's Carrington ground, but also handed out opportunities to promising players like Marcus Rashford, Jesse Lingard, Timothy Fosu-Mensah, Guillermo Varela, Cameron Borthwick-Jackson and Paddy McNair.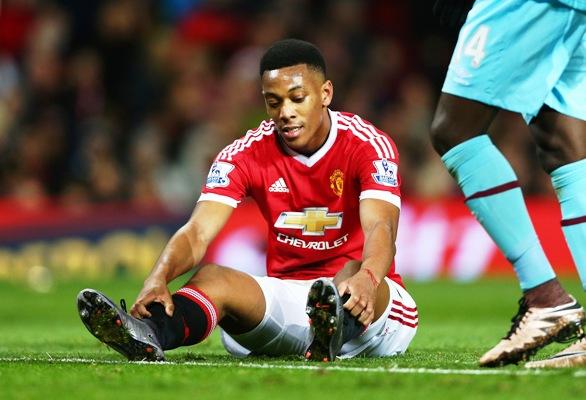 IMAGE: Anthony Martial of Manchester United. Photograph: Getty Images
Besides, scouting and signing a relatively unknown but promising player in Anthony Martial was a masterstroke. The Frenchman scored 17 goals, in all competitions, and provided 11 assists in an impressive debut season.
The likes of Ashley Young, Chris Smalling, Danny Blind, Juan Mata and Marouane Fellaini also prospered under the Dutchman's tutelage.
Yes, there was a costly flop (Di Maria>) and other expensive under-performers -- the likes of Ander Herrera, Memphis Depay and Morgan Schneiderlin -- but the latter three are young players who can still adapt, given the time.
Van Gaal's critics can always argue that he isn't responsible for unearthing these young talents, and was forced them owing to an ever-increasing injury list. However, the same 'injury list' can also be used as an argument for the club performing below expectations this season.
It is imperative here to point out that United were atop the league standings in September, but fell drastically after a win-less December, the six-week period coinciding with a lengthy injury list.
Defeat to West Ham in their penultimate league game put paid to their top four hopes.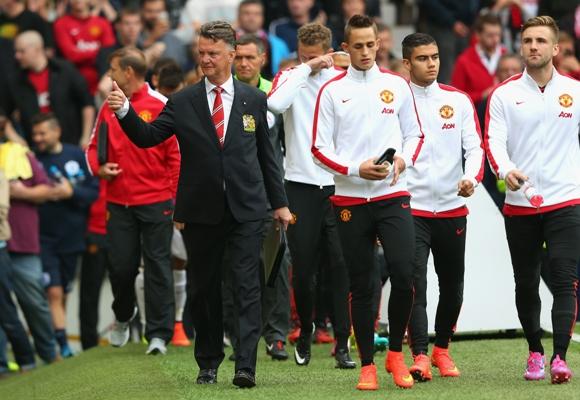 IMAGE: Louis van Gaal gives a thumbs up prior to a Premier League game. Photograph: Alex Livesey/Getty Images
On the positive side, van Gaal did lead the club to their first FA Cup success in 12 years -- preserving his record of having won trophies in every country he has coached in.
The sacking came two days after the said triumph. At a time when a team should be celebrating their first major trophy in three years, United are busy finalising a new coach.
Frequent changing of coaches wasn't something associated with United. Sir Matt Busby had a tenure of 24 years. Fergie had 26, despite not winning anything in his first four years.
Van Gaal's tenure was a work in progress. He could have been allowed to complete the third year of his contract, and hand over reigns to Ryan Giggs, his assistant and a club legend.
Some patience and persistence, and it could have helped the club in the long run.
As things stand, the Dutchman's sacking is United's third mistake in recent times, and a major one at that.