Manchester United striker Javier Hernandez was close to quitting football last year, his father Javier Hernandez Gutierrez has revealed.
Hernandez is being seen as the new United hero after the Mexican's goal took the club into the fifth round of the Carling Cup with a 3-2 win over Wolverhampton Wanderers.
He had also scored twice in United's 2-1 win against Stoke City in their Sunday's Premier League clash.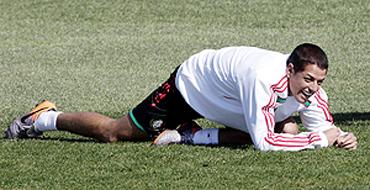 However, it was a different story in early 2009 when he had gone two years without a senior goal.
He had even fallen out of the first-team picture at Chivas, and had been playing for the club's reserve teams in Mexico's second division.
"He doubted he was capable of playing in the First Division. We told him he had to be patient, but as a young player he was impatient," the Sun quoted Javier senior, a former Mexican footballer, as saying.
Grandfather Tomas Balcazar, another World Cup star for Mexico, was also involved in helping 'Chicharito' out of an early retirement.
The pep talk helped him a lot, as he went on to be the top scorer for the Chivas first team that year.