Manchester United striker Nani could be dumped by manager Sir Alex Fergusson following his poor performance in the 1- 0 defeat to Everton.
Nani, 25, is also reportedly frustrated over the collapse of talks related to a new four-year deal.
"The club did not think his form at the end of last season put him in a very strong bargaining position over a new deal. Monday was hardly his best either," The Sun quoted a United spokesperson, as saying.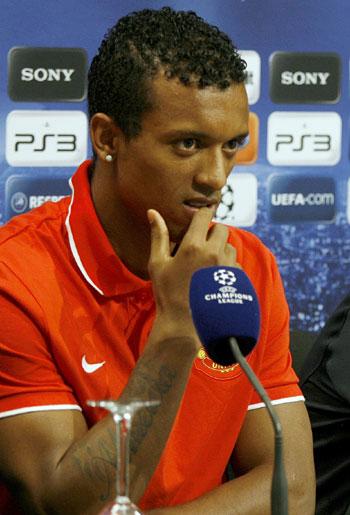 Nani currently has two years left on his 90,000 pound-a-week deal, but now wants in excess of 130,000 pounds.
"There was an intention to get him on a new four-year contract. But initial demands from Nani's side were way over the top. Right now, United are happy to leave it until next summer unless his demands are dramatically dropped. But they won't sell unless silly money comes in," the spokesperson added.
Zenit St Petersburg have shown interest to rope in Nani, but United are not going to consider selling unless they get an offer of more than 25 million pounds, the report said.
Man U mulling £10m swoop for Mexico's Zorro
Meanwhile, Officials at Manchester United are planning a 10 million pound move for Mexico's Olympic star Hector Herrera.
Herrera, 22, was the inspiration behind Mexico's gold medal victory at this London Olympics, has been on United and Liverpool FC's radar over the last year.
Pachuca sporting director Andres Fassi claimed that they had had a fresh approach from United requesting permission to approach the starlet who is nicknamed "Zorro".
"There is an official interest. We have the document, but there's nothing else to add at this time," the Daily Mail quoted Fassi, as saying.
Herrera is currently recovering from an ankle injury, but United are reportedly viewing him as a decent replacement for former transfer target Lucas Moura, who moved to Paris St Germain, the paper said.
United, who have also gained a work permit for Chilean striker Angelo Henriquez, are also understood to be exploring the possibility of taking defender Phillipe Mexes on loan from AC Milan, it added.