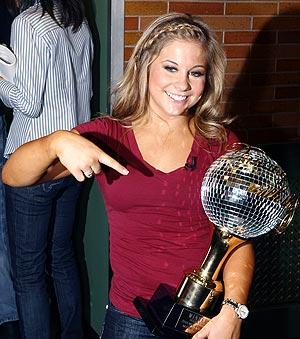 A Florida man was convicted on Friday of stalking Olympic gold medalist Shawn Johnson at the time she was starring on reality television show Dancing With the Stars.
Los Angeles Superior Court Judge Michael Pastor also found Robert O'Ryan, 36, guilty of commercial burglary and carrying a loaded firearm in a car.
Pastor ruled that O'Ryan is legally insane, and ordered mental health officials to evaluate him before sentencing. The judge had previously warned O'Ryan that he could spend the rest of his life at a mental hospital if found insane.
Police arrested O'Ryan in March 2009 after he climbed a fence around the Los Angeles studio where Dancing With the Stars is produced and told security officers he was there to see Johnson.
Authorities said he drove from Florida in an attempt to meet Johnson, and that he had two guns, a knife, plastic handcuffs and a bulletproof vest in his car.
O'Ryan's defense attorney argued in court that he suffered from auditory hallucinations and felt compelled to drive to Los Angeles to meet and protect Johnson.
Johnson, who was 17 years-old at the time of the incident, said in testimony that O'Ryan scared her and that she considered leaving Dancing With the Stars and returning home. But she stayed and became the youngest contestant ever to win.
Johnson captured her gold medal at the 2008 Summer Olympics in Beijing, where she also won a silver medal in the individual all-around competition and helped the U.S. women win a silver medal in the team competition.