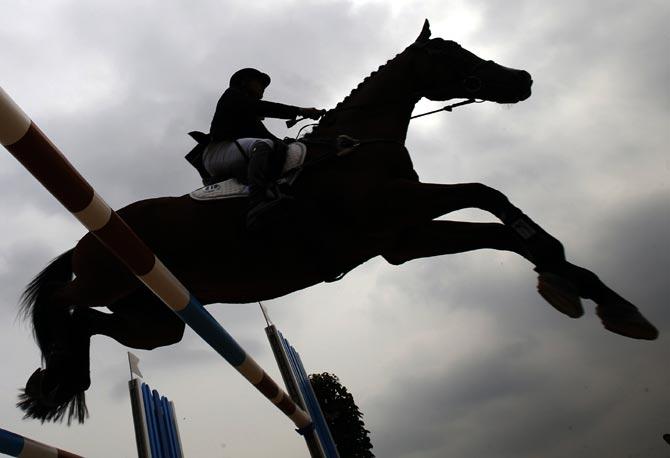 In the famous 19th century novel 'Black Beauty' by Englishwoman Anna Sewell, the protagonist was a horse telling her life story in the Victorian England.
But that was imagination because in reality, the relationship between a human and animal is a complex one, says Major Ashish Malik, the captain of the Indian Equestrian team, which won silver in the eventing category at the recently-concluded Asian Games.
"You need to understand your horse well. It cannot express its feelings. There are days when it will be cranky, may be sad and doesn't co-operate. You need to have that understanding of your horse's feeling," Malik said.
"The relationship between a horse and human is like two bodies and one soul. You can't succeed if that connect is not there," Major said during an interaction on the sidelines of Indian Army's felicitation function for its Asiad medallists.
Major Malik rode German horse Seigner Medicot while the other horse was of Swiss breed Frimeur Du Record.
"My horse is a German one while Fouad (Mirza) rode Frimeur du Record. Sepoy Rakesh Kumar's horse was an Anglo Arabic one while Sepoy Jitender Singh rode French horse Veni Vidi Vici," Major Malik said.
He also spoke about the role of a good handler -- one who takes care of horse's daily needs.
"We were lucky that we had very good handlers for all the horses. They are the ones who get the horses competition ready. They know the courses well and can also offer good tips to the riders," he added.
Major Malik didn't forget to thank Equestrian Federation of India (EFI) top boss Jeetu Virwani for his support.
"The Indian Army has supported me a lot but I must thank Jeetu Virwani as he sponsored our training programme in France for eight months. During the tense period, his support meant a lot," said the 29-year-old from Haryana.
Asked about his love for horse riding, Malik recollected his days in Rashtriya Indian Military College (Dehradun).
"At RIMC, we had the facility of horse riding and that's where my interest grew and it's now my passion. My first competitive event was 2006 Junior National Equestrian Championship. But this Asian Games is my first major international success," said Major Malik.
While he has not been a part of any major combat operation as a soldier, Major Malik has been on field postings in Manipur.
"It was a great experience being posted in Manipur. I have been a part of long range patrol for seven days. The biggest challenge would be that you are leading a patrol team in a jungle area which is also hilly. But yes I have not been a part of any combat operations," Major Malik said.
Currently, he is posted in Meerut where he will resume his training.
"Due to security protocol, I won't be able to tell you the exact location of my posting but this time it's not a field posting. I will be training in Meerut," he said.
Chief of Army Staff General Bipin Rawat, who felicitated them, said that 61st Cavalry has been entrusted with the duty of buying quality foreign horses so that the Army riders can get quality training in India.
Government must provide financial help to popularise equestrian: Fouaad Mirza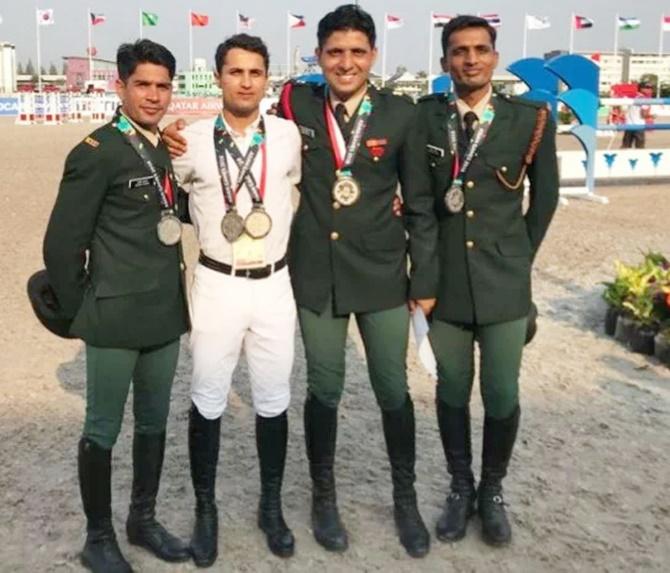 Asian Games medal winner Fouaad Mirza on Thursday called for financial help in popularising equestrian in India, saying the government can take a cue from European nations such as the United Kingdom and Germany.
Mirza recently became the first Indian to win an Asian Games individual medal in the equestrian event since 1982 besides guiding the country to a second-place finish in the team competition in Indonesia.
Mirza bagged silver in individual jumping with a score of 26.40.
"It would be interesting to look into the programmes of countries like UK, Germany, Japan and Thailand, to see if we can also come up with a system to support and help equestrian sport grow in India," Mirza said.
"These governments provide financial aid to the sport and equine athletes. Our government should adopt this system as the sport is expensive. It needs lots of money to maintain a horse and matters concerning logistics," he added.
Mirza was felicitated by Embassy Group chairman and managing director Jitu Virwani at an event.
Fouaad, who has been training under German Olympian Bettina Hoy, topped the dressage and cross-country qualifiers with a score of 22.40 and went into the jumping finals as a favourite.
Replying to a query, Mirza said quarantine regulations makes the sport even more expensive, and it becomes difficult for equestrian enthusiasts to get horses into India.
"Therefore, to tide over this problem, people like Mr Jitu Virwani, who is the Chairman of Embassy Group, should chip in. I am very grateful to Mr Jitu for supporting me to get horses and cater to sundry other requirements to train. We have eight horses imported at the Embassy Inetrnational Riding School," he added.
Mirza said more and more equestrian competitions should be conducted to popularise the sport in India.
"The equine athletes are fortunate to have many equestrian competitions, especially the Equestrian Premier League, which which provides a platform for beginners and also professionals," he said.
Virwani said Army control over equestrian federation in India is tight and it needs to be replaced with experts, who are well-versed in the sport.
"Serving army officials should be off the federation, instead experts and knowledgeable civilians, should run it. Unfortunately, there is much of politics in the federation and country takes a back seat," he said.
Asked if he wishes to contest the federation election, Virwani said only if the Army wishes him to do so.
"However, I will not advise Fouaad to contest election because training takes a lot of time and needs focus. I will contest only if the Army wants me to do," he said.