'Magnificent' Mary Kom and Sonia Lather enter Asian Championships final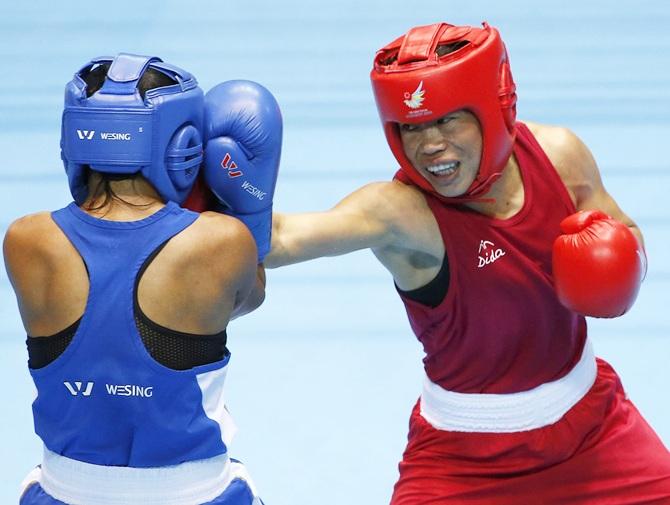 IMAGE: India's M C Mary Kom(red) throws a punch. Photograph: Kim Kyung-Hoon/Reuters
M C Mary Kom (48kg) remained on course for a fifth Asian Championships gold after making the finals along with Sonia Lather (57kg) while five others had to be content with bronze medals at the continental showpiece in Ho Chi Minh City in Vietnam on Tuesday.
Former world champion L Sarita Devi (64kg), Priyanka Chaudhary (60kg), Lovlina Borgohain (69kg), Seema Punia (+81kg) and Shiksha (54kg) signed off with bronze medals after losing their respective semi-final bouts.
Mary Kom started the day brightly for India, defeating Japan's Tsubasa Komura in a unanimous 5-0 verdict to make the summit clash for the fifth time in her six appearances at the event.
Should she go on to win the final against North Korea's Kim Hyang Mi on Wednesday, the Indian would be claiming her first Asian gold medal in the 48kg category.
Mi got the better of Mongolian Nandintsetseg Myagmardulam to make the final.
"It is a very special medal for me like all (the) others I have won, because every medal has a story behind it," Mary Kom told PTI.
"I am delighted to be in the final. I was expecting a tough fight but I managed to figure Komura out early enough. I am already looking towards the final but I am not going to think too much and put pressure on myself," she said.
"I will just go out and do my best, just like I have done so far in this tournament."
The 35-year-old Rajya Sabha MP, who is also a former Olympic bronze-medallist, returned to her preferred weight category after five years of competing in 51kg, which was made an Olympic category in 2012.
Once again, it was a bout fought largely on defensive tactics. The Japanese boxer seemed too wary to go near the Indian, who had to quite literally lunge at Komura for her right hooks to connect.
Mary Kom's patience with Komura's tactics ran out in the second round and she increased the pace and ferocity of her own attacks to unsettle the Japanese.
The shell guard to stave off Komura's feeble right straights ensured that the Manipuri hardly took any blow in what turned out to be a lopsided contest.
Sonia, in contrast, had to steer past a very aggressive Yodgoroy Mirzaeva, who lacked accuracy in placement of punches but not persistence.
Mirzaeva's wild swings were easy to deflect for the Haryana-boxer, a former silver-medallist at this event, but it was nonetheless a draining contest given the Uzbek's relentless attempts at connecting something.
In the end, Sonia was unanimously adjudged the victor and will be up against China's Yin Junhua in the summit clash tomorrow.
However, things went downhill for India after that as Asian Games bronze-medallist Sarita went down to China's Dou Dan in the semi-finals.
Shiksha too ended with a bronze medal after being out-punched by Chinese Taipei's former youth world champion Lin Yu-Ting in the semi-finals.
Also signing off with bronze medals were Priyanka and Lovlina. Priyanka lost to Korean Oh Yeonji, while Lovlina went down to Kazakhstan's Valentina Khalzova.
In India's last bout of the day, Seema, who got a direct entry into the semis courtesy the small size of the draw, lost to Kazakhstan's Guzal Ismatova to end with a bronze medal.