Spain's Rafael Nadal reacts during his Madrid Masters Open final against Britain's Andy Murray on Sunday. Photograph: Andrea Comas/Reuters
Rafael Nadal slumped to one of his worst defeats in a clay final on Sunday but said his week in Madrid had been positive despite losing his Masters crown to Andy Murray in a crushing 6-3, 6-2 reverse.
- Madrid Masters: Murray stuns king of clay Nadal
- When a balanced life off-court brings laurels on it
The French Open champion, who will seek a record-extending 10th Roland Garros crown starting at the end of the month, has been struggling for consistency since returning from the injury and illness that dogged his 2014 season.
He suffered a surprise reverse to Italian Fabio Fognini in the third round in Barcelona last month but has looked close to his best on occasion this week, including an imperious victory over Czech Tomas Berdych in the semi-finals.
The 28-year-old now heads to the Rome Masters, where he will try to hone his game and eliminate the errors that scuppered him on Sunday before beginning his French Open bid in Paris.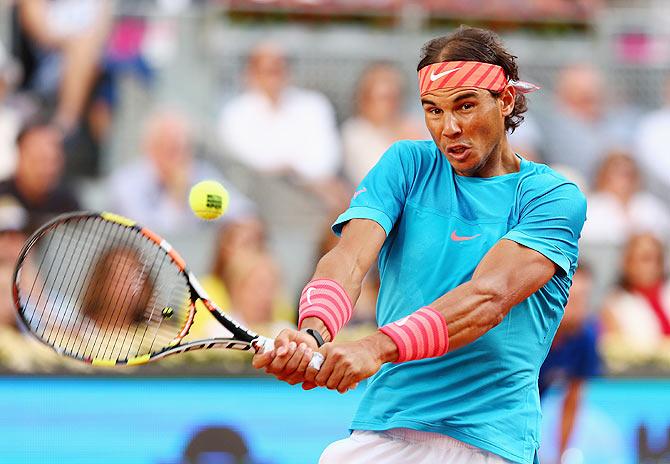 Rafael Nadal of Spain plays a backhand against Andy Murray of Great Britain in the Madrid Masters Open final on Sunday. Photograph: Clive Brunskill/Getty Images
"The most important thing is the feelings I have and this week I had much better positive feelings than a few weeks ago so that's very important for me," Nadal told a news conference.
"There is a chance for me now to have another good week in Rome like I had here," added the Mallorcan.
"Even playing very badly today my feelings on court were not that bad.
"I just have to accept that it was not my day and forget it because it's not time to think about negative things as I have another match in two days.
"One week ago the feeling was much worse. It's the time to be positive and fight for what's going on and what's going on is Rome next week."
Nadal blamed his defeat by Murray on the weakness of his backhand, which he said had allowed the Scot to dictate the rallies and prevented him from using his trademark whipped forehand as much as he would have liked.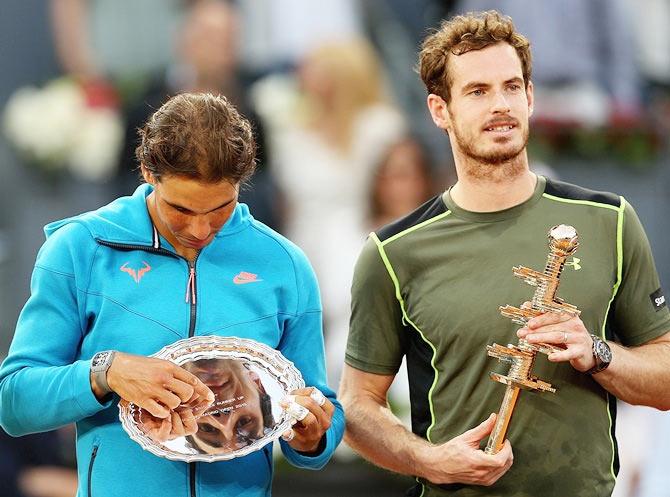 Andy Murray of Great Britain poses with his winners trophy after his straight sets victory against Rafael Nadal of Spain on Sunday. Photograph: Clive Brunskill/Getty Images
The Spaniard needed a win to stay fourth in the world rankings but dropped to seventh when they were updated on Monday, putting him outside the top five for the first time in a decade.
However, he said he was not worried about the rankings, even though it could mean a tougher draw at the French Open.
Nadal's slide down the ATP rankings means if he wins a record-extending 10th French Open title early next month it would go down as one of the greatest achievements of his illustrious career.
And with another 600 points to defend at this week Rome Masters, the 28-year-old could fall to his lowest ranking for 10 years by the time play begins at Roland Garros on May 24.
Not since April 2005, just before his maiden French title, has Nadal been lower than seventh.
The Spaniard insisted after losing to Murray that he was beginning to feel the "old sensations" again after struggling to find his best form in the wake of the wrist injury and appendicitis issues that undermined him last year.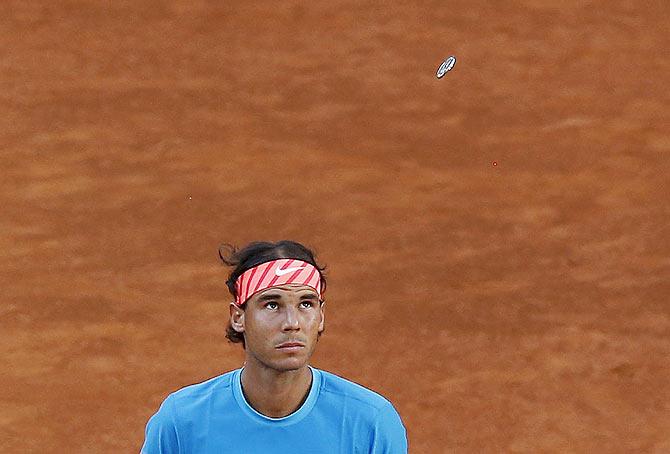 Spain's Rafael Nadal looks up during the coin toss before the match. Photograph: Andrea Comas/Reuters
"I will just stay with the good things that happened this week, and there are a lot of them, more good than bad. I will try to recover the good feelings in Rome," Nadal said.
"Whatever will happen will be. It's something that we have to realise, all of us, that what's happening during these last years, it's very complicated to be 10 or one years without leaving the top four."
Barring an early loss in Rome, Nadal should manage to stay in the top eight but the possibility of a quarter-final meeting with Murray, Djokovic or world number two Roger Federer looms.
Unlike Wimbledon, where ATP rankings can be adjusted to reflect performances on grass, the French Open sticks stringently to the rankings.
And while that does not look good for Nadal, it will also worry the likes of Djokovic and Murray, who could find themselves coming face-to-face with the greatest claycourt player of all time a little earlier than expected.