'I started the year as World No 9 but I managed to climb up to No 4 in the rankings'
Shuttle queen said she wanted to set up an academy in northern India as south already have a number of academies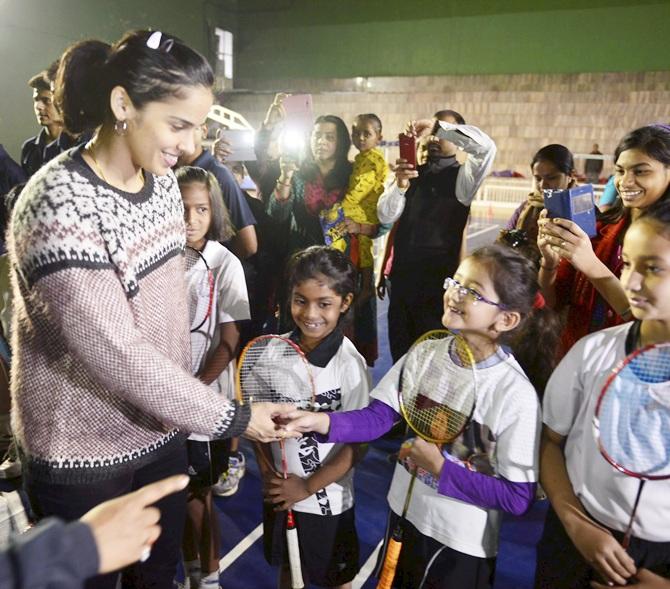 Badminton star Saina Nehwal with school children. Photograph: PTI
A successful 2014 behind her, ace India shuttler Saina Nehwal is now looking for an 'even better' outing in the coming year with her eyes trained on 2016 Rio Olympics, besides getting ready to try her hand in coaching.
"2014 has been a very good year for me. I won three titles -- India Open, Australia Open and China Open – besides a bronze in Asian Games. I started the year as World No 9 but I managed to climb up to number 4 in the rankings.
"I tried to focus more on my fitness and my game is also improving very well. I hope to do even better in 2015. I want to win a lot many tournaments in the coming year. Although I can only train hard, am sure if I am prepared well then results will definitely come," Saina said after announcing the launch of her first badminton academy in the Gaur City at Greater Noida.
"One of my main aim will be to focus on my fitness as 2016 is an Olympic year," she added.
The London Olympic bronze medallist said it gave her immense satisfaction to make a successful comeback after a disappointing 2013.
"2014 has been a very good year for me, especially as compared to 2013. Last year, my fitness was not up to the mark. But this year, I worked hard on my fitness and was confident that results would come.
"In Dubai also I had a very good chance. I defeated world No 2, 4 and 6 on my way to the semifinals. In the semis also, I beat my opponent in the first game but she started playing well. She eventually won the title also," Saina pointed out.
The 24-year-old shuttler said winning China Open was one of her biggest achievements after her Olympic medal.
"After Olympics, winning China Open was probably the biggest because on the way I defeated a lot of established as well as upcoming Chinese players and finally won the title at their own backyard. I always used to think of winning China Open, where nobody else had won other than the Chinese. When I achieved it, it was like a dream come true," she said.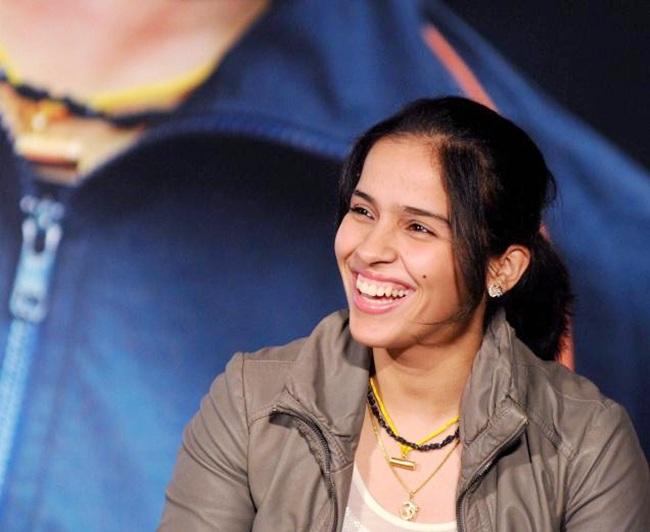 Saina Nehwal is all smiles. Photograph: PTI
Talking about her new venture into coaching, the shuttle queen said she wanted to set up an academy in northern India as south already have a number of academies.
"I will be there as a coach. I will try to give as much time as possible to the kids and support them. I will give them some tips. Let's see how it goes in the initial stages and if the kids do well, then we can think of roping in international level coaches also and make it more professional. Through this academy I would love to come out with competitive badminton players," she emphasised.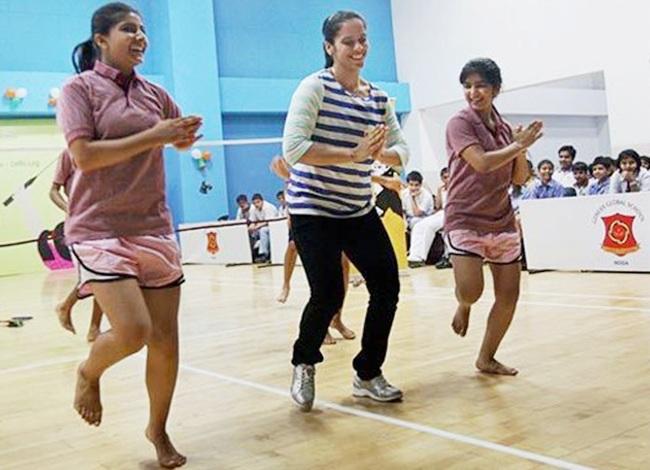 Badminton star Saina Nehwal trains with school children. Photograph: PTI
Stating that Indian badminton suffers from lack of quality coaches, Saina said, "Badminton is coming up very well in India. But we still lack in coaching aspect. There is infrastructure but not enough coaches."
Comparing India with badminton powerhouses like China, Malaysia, Indonesia and Korea, she said those countries have top class coaches and have larger pool of talented youngsters to choose from.
"In those countries, every village has 30,000 kids playing badminton. That is the difference. It gives an option of larger pool to select from. The coaches there are also Olympic or World Champions, and they have the freedom to go to any nook and corner and bring out the talent, whom they can develop," she explained.