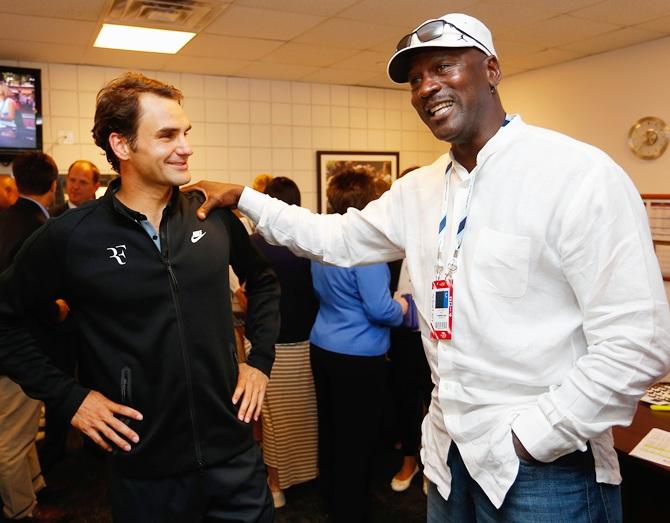 Roger Federer of Switzerland and basketball Hall of Famer Michael Jordan meet at the US Open. Chris Trotman/Getty Images for USTA
Roger Federer launched his bid for an 18th grand slam title with a workmanlike 6-3, 6-4, 7-6 (4) win over Marinko Matosevic to ease into the second round of the US Open on Tuesday, with NBA great Michael Jordan leading the cheering.
A five-time US Open champion, Federer never appeared threatened by Matosevic but the 76th ranked Australian still forced the Swiss maestro to work up a sweat in front of an enthusiastic center court crowd.
Dressed all in black, Federer broke his opponent once in each set but in the third Matosevic finally broke back forcing it to a tie-break, which the Swiss won 7-4 by clinching the final three points.
'My hero of all sports'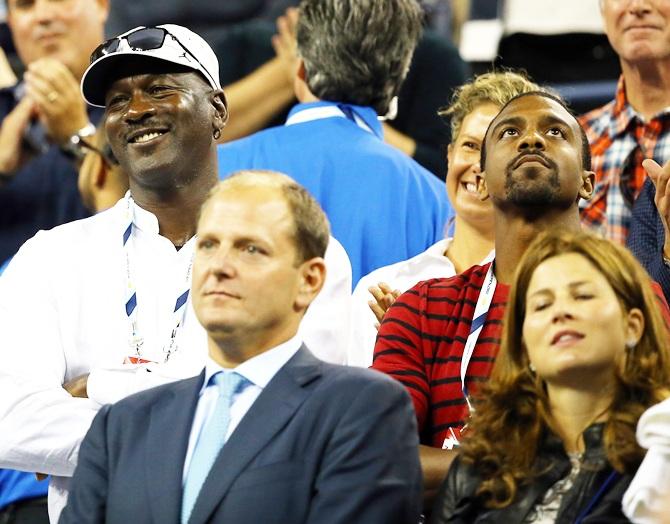 Basketball Hall of Famer Michael Jordan watches as Roger Federer of Switzerland plays against Marinko Matosevic of Australia. Al Bello/Getty Images
Federer can count some of the world's great athletes as his biggest supporters, golfer Tiger Woods among those who have made the trip to Flushing Meadows to watch the 17-time Grand Slam winner.
But Tuesday's first round match was something special for the 33-year, who finally got the chance to meet his childhood hero and Nike stablemate.
"He (Jordan) was just my hero of all sports," said Federer, who will next meet another Australian Sam Groth.
"That's what he was for me growing up. "Besides (Stefan) Edberg and (Boris) Becker being my tennis idols, I had Jordan as my all sports idol.
"I just remember when I was younger; in Germany it was really big on the German TV stations.
"That's where I saw him doing all his moves. I wasn't necessarily a Chicago Bulls fan or anything like that.
"It's just I was into him, into the incredible athlete, just being that guy who was carrying basketball at the time.
"So I guess that's what inspired me."
'His longevity, the way he made it look easy'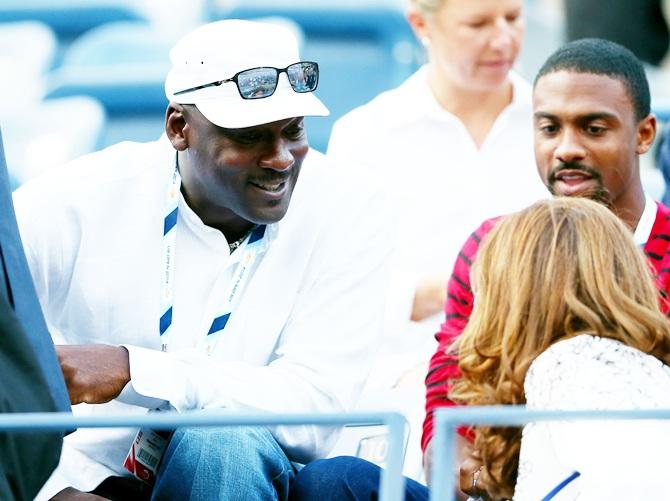 Basketball Hall of Famer Michael Jordan talks to Mirka Federer at the USTA Billie Jean King National Tennis Center. Elsa/Getty Images
Even though they had just met it was clear that Federer and Jordan share a unique bond, their excellence uniting them in a way few could understand.
"His longevity, the way he made it look easy, his will to win, wanting to be the best, delivering under pressure, being a superstar in a team sport, carrying his team for so many years," said Federer, rolling out a long list of superlatives that many would use to describe his career.
"There's so many things that he did well and represented the game really nicely, I thought.
"That's why he also became my idol.
"He wanted to know some things about tennis. How I prepare, all these things, how much I play, where I go next.
"These kind of things, you exchange each other's ideas about your respective sports and that's kind of what you talk about."