India's leading discus thrower Vikas Gowda kept himself in medal contention by qualifying for the final round at the London Games. He finished top of Group A and fifth overall with an impressive performance at the Olympic stadium.
The United States-based Gowda started with a throw of 63.52m, but hurled the 2kg disc to a distance of 65.20m in his second attempt to book an automatic berth in the final round, to be held on Tuesday, 7:54 pm local time (1215 IST Wednesday).
- London Olympics 2012 - Complete coverage
The final round entry standard was set at the 65m mark or the best 12.
Gowda is also only the second Indian to make the final in track and field at the ongoing Games, after Krishna Poonia, who eventually finished seventh in women's discus throw.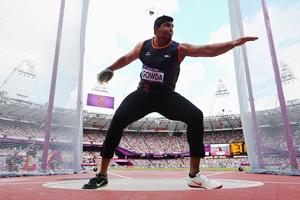 The other five Indians to make it to the final round of Olympic Games' track and field events are Milkha Singh (400m), Gurbachan Singh Randhawa (110m hurdles), Sriram Singh (800m), P T Usha (400m hurdles) and Anju Bobby George (Long Jump).
The 29-year-old Gowda's fine effort brought some cheer to the Indian contingent which has so far failed to make much of an impression in the athletic arena. He was one of the six throwers who secured automatic qualification by clearing the 65m mark.
Gowda, who has a personal best of 66.28m, did not exert much in the qualification round and did not take the third attempt after achieving the qualification mark.
"The first throw slipped out of my hand but I knew the second was a good one. My first aim to qualify and I have achieved that," Gowda said.
He went on to add that the 10 am start made him feel a little sluggish.
"It's 10 O'clock so I'm feeling pretty sluggish but I am confident for the final. I just need to stay relaxed and stay focussed," he said.
All the other throwers also began sluggishly, including defending champion Gerd Kanter of Estonia who eventually topped the final standings by winning the other group with a 66.39m effort in his third and final throw.
Though Gowda qualified for the final round in fifth place, he will have a tough job at hand if has to win a medal as 10 other qualifiers out of the 11 are above him at the latest IAAF rankings having better season's best than him.
Reigning World champion Robert Harting of Germany qualified in second place behind Kanter with a qualification round throw of 66.22m. He is the current world leader, with a season's best of 70.66m.
Discus Throw qualifying
Group A
1. Vikas Gowda, India, 65.20 (Q).
2. Ehsan Hadadi, Iran, 65.19 (Q).
3. Piotr Malachowski, Poland, 64.65 (Q).
4. Virgilijus Alekna, Lithuania, 63.88 (Q).
5. Yennifer Frank Casanas, Spain, 63.76 (Q).
6. Erik Cadee, Netherlands, 63.55 (Q).
7. Apostolos Parellis, Cyprus, 63.48.
8. Jason Young, United States, 62.18.
9. Scott Martin, Australia, 62.14.
10. Ercument Olgundeniz, Turkey, 60.87.
11. Mart Israel, Estonia, 60.34.
12. Aleksander Tammert, Estonia, 60.20.
13. Julian Wruck, Australia, 60.08.
14. Markus Munch, Germany, 59.95.
15. Robert Urbanek, Poland, 59.56.
16. Brett Morse, Britain, 58.18.
17. Roland Varga, Croatia, 58.17.
18. German Lauro, Argentina, 57.54.
19. Jason Morgan, Jamaica, 57.46.
20. Yunio Lastre, Cuba, 57.33.
Group 2
1. Gerd Kanter, Estonia, 66.39 (Q).
2. Robert Harting, Germany, 66.22 (Q).
3. Jorge Y Fernandez, Cuba, 65.34 (Q).
4. Lawrence Okoye, Britain, 65.28 (Q).
5. Martin Wierig, Germany, 64.13 (Q).
6. Benn Harradine, Australia, 64.00 (Q).
7. Mario Pestano, Spain, 63.40.
8. Bogdan Pishchalnikov, Russia, 63.15.
9. Rutger Smith, Netherlands, 63.09.
10. Martin Maric, Croatia, 62.87.
11. Traves Smikle, Jamaica, 61.85.
12. Lance Brooks, United States, 61.17.
13. Przemyslaw Czajkowski, Poland, 61.08.
14. Gerhard Mayer, Austria, 60.81.
15. Omar Ahmed El Ghazaly, Egypt, 60.26.
16. Abdul Buhari, Britain, 60.08.
17. Jarred Rome, United States, 59.57.
18. Sultan Mubarak Al-Dawoodi, Saudi Arabia, 59.54.
19. Mykyta Nesterenko, Ukraine, 59.17.
20. Danijel Furtula, Montenegro, 57.48.
21. Ronald Juliao, Brazil, 56.20.
Photograph: Michael Steele/Getty Images