India overcame a defensive France 4-0 to make a clean sweep in the two-match friendly Test series here ahead of next month's London Olympics.
Ace drag-flicker Sandeep Singh converted two penalty corners in each half for the Indians, while V R Raghunath and Danish Mujtaba were the other goal-getters for the visitors in Le Touquet on Saturday.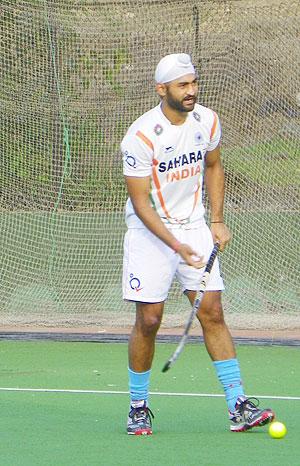 India had earlier defeated France 8-2 in the series opener in Ville.
With France opting to play all 11 men behind its 25-yard line for much of the time, it was a different experience for the Indian team than usual.
The team coped well with the challenge, creating more circle penetrations than the home side.
Also, the Indians got used to the blue turf which, despite being in use for a while now, was on the bouncier side.
Though France packed its defence, the Indian attack created opportunities that led to Raghunath's opening goal from a penalty corner strike.
Sandeep then scoring a penalty corner goal in each half before Danish deflecting a cross late in the second half to round off the tally.
India rested skipper Bharat Chetri, forward Shivendra Singh and rookies Nitin and Somanna.
Indian chief coach Michael Nobbs fielded a different combination upfront -– SV Sunil, Tushar Khandker and Birendra Lakra -– than in the first game.
The Indian team will have a rest day before travelling to the Spanish city of Santander on Monday.
India will train for a fortnight in Santander before competing in a tri-nation tournament featuring Spain and Great Britain from July 14 to 18.