Zara Phillips has pulled her royal weight, helping put Britain in medal contention heading into Tuesday's show jumping final of the three-discipline Olympic equestrian eventing competition.
Phillips, the 31-year-old granddaughter of Queen Elizabeth II, scored a penalty-free ride through the treacherous cross-country event Monday, negotiating her horse over 28 obstacles and a slippery course that claimed a dozen fallen riders.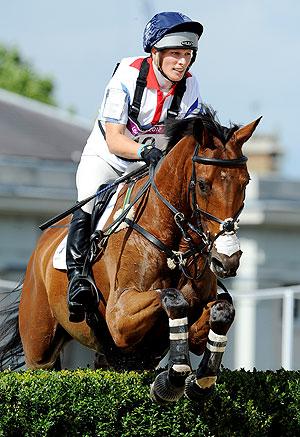 Her cousins, Princes William and Harry, donned "Team GB" polo shirts and joined an estimated 50,000 less-regal fans in Greenwich Park to cheer her on, raising expectations that their grandmother might attend Phillips' final competition Tuesday.
"The crowd was unbelievable!" Phillips said after she finished Day 2 of her Olympic equestrian debut. "I hope I didn't take any heads off on the way cutting corners."
Hers was one of the top three scores counted in Britain's second-place standings with 130.2 points. Germany led with 124.7 points and Sweden was third with 131.4. The United States was fifth with 155.2.
Phillips, a former world and European eventing champion who is 14th in line to the throne, said the only drawback to the raucous cheers was that she couldn't hear the timer ticking on her wrist. Timer or no, her under-the-limit ride added no further penalty points to her 46.1 score from dressage a day earlier and left her tied for 10th place in the individual standings.
Like golf, the low score wins in equestrian eventing.
On Tuesday, the riders will compete in a jumping course inside the arena that tests agility and the horse's ability to recover from the arduous cross-country run the day before. The lowest three scores for each team will count for the team total. The lowest 25 scores go forward to the individual jumping competition later Tuesday.
Ingrid Klimke, part of the gold-winning German eventing team in 2008, was tied for first place in the individual standings with Sweden's Sara Algotsson Ostholt at 39.3 points. Mark Todd of New Zealand, who won individual gold in eventing in 1984 and 1988, was in third place with 39.5 points after incurring a slight time penalty.
Klimke, a skier when not riding, said she was behind midway and knew she had to egg on her horse Butts Abraxxas to keep the pace. "That's why at the first downhill I went like in skiing, felt like 'schussing' downhill. But at the nine-minute marker I knew we would make it," she said.
William and Harry watched from the main equestrian arena, joined by William's wife, Kate, and Camilla, the wife of Prince Charles. Kate wore a white blouse and navy blue jacket, keeping in line with the Union Jack colors the royal family has worn to Olympic events so far.
Seated alongside William and Harry were Phillips' other first cousins, Princess Beatrice and Princess Eugenie, the daughters of Prince Andrew.
Phillips' mother, Princess Anne, herself a former Olympian eventing competitor, watched from the grounds of the twisty, hilly course dotted with 28 fences, hedges and water obstacles in Greenwich Park, London's oldest royal park.
Phillips said her time -- well inside the 10-minute, 3-second time limit -- was particularly good given that her horse, High Kingdom, lost a shoe during the ride. That made it tougher for him to keep his footing and make the quick turns needed to complete the 5.7-kilometer (3.5-mile) course within the time limit.
"He did amazing," she said.
"He really grew up and stepped up to the plate."
She mentioned that Monday was a special day for other reasons too: Last July 30, she married England rugby player Mike Tindall in the "other" royal wedding of 2011 that followed William and Kate's nuptials.
The thrilling cross-country portion of the three-discipline eventing competition is designed to test horse and rider endurance -- and guts -- and the course up and down the hills of Greenwich Park fit the bill. There were razor-sharp turns in between jumps, blind 2-meter (6-foot) drops and tricky combination fences -- each one designed with a very British story behind it.
The first few horses out Monday seemed to handle the course relatively well, but as the afternoon wore on a dozen riders fell from their mounts. The individual leader from dressage, Japan's Oiwa Yoshiaki, fell at jump 20, a steep 2-meter cliff with a deceptive second jump right after.
Several of the riders who fell wore protective vests that inflated much like airbags upon impact. One rider, Hawley Bennett-Awad of Canada, was in the hospital under observation, but there were no serious injuries reported among the other fallen riders or horses.
Thousands of people lined the narrow course to watch the horses, getting an unusually close view of them and enjoying a festive picnic atmosphere on the grass. Some riders complained that their horses got spooked by their proximity, others said the closeness of the crowd actually kept their horses straight on the course.
Photograph: Pascal Le Segretain/Getty Images