Upset over India's disastrous show at the London Games, Olympian Michael Kindo has demanded immediate removal of coach Michael Nobbs for slamming the players midway through the Olympics.
"While I feel very sorry for the players, I did not like Nobbs's negative views after the team lost a couple of matches. The job of a coach is to motivate players and get them ready for the next match without dissecting the results of the lost one," Kindo, a member of the bronze medal winning team in the 1972 Munich Olympics team, said.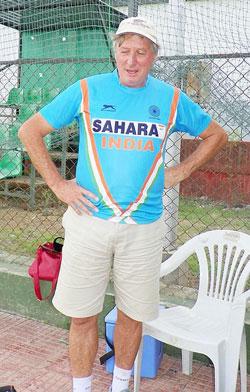 "Instead Nobbs criticised the players, so he should be sacked forthwith," he added.
Still waiting to taste a win in the 12-team tournament at the ongoing Olympics, India will play for the last two positions.
"How sad to watch India playing for the last two positions -- the worst performance by us in the Olympic hockey history. The winner of maximum eight gold medals and ending up at the bottom," he said.
Advocating the merger of Hockey India and Indian Hockey Federation, Kindo expressed disappointment at leaving out some good players from selection for the Olympic team just because they participated in the World Hockey Series.
"In the interest of the players and to revive the glorious days, both Hockey India and IHF should merge without any more delay," Kindo added.
Photograph: Laxmi Negi/Rediff.com