Yogeshwar Dutt provided a late boost to India's medal collection at the 30th Olympic Games by claiming a memorable bronze in the men's freestyle 60 kg category, thus becoming the second Indian to achieve the feat in the country's Olympics history.
The 29-year-old came up with a heroic show on the wrestling mat as he worked his way through three rounds of repechage to snatch the bronze medal and take India's tally to a record five medals -- one silver and four bronze -- at the Excel Arena.
"It is a dream come true to win an Olympic medal. I have worked very hard for it, and I can't describe how I am feeling now. It is a very special moment for me," a beaming Yogeshwar said after his bronze-winning effort.
Photos: Dutt's moment of glory
"I sacrificed a lot and have worked for this for the last 21 years. Since my childhood I always wanted to win an Olympic medal, and now I have achieved that dream," he said.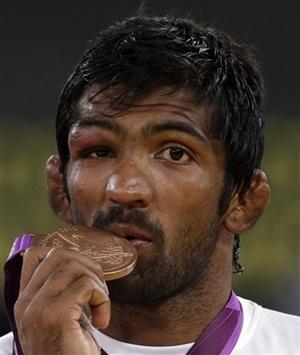 Spurred on by vociferous Indian spectators who kept chanting 'India, India', Yogeshwar pulled off a spectacular 3-1 victory over North Korea's Ri Jong Myong to bring about his moment of glory in a thrilling bout, which saw the Indian concede the first round.
But Yogeshwar, a gold medal winner in the 2010 Commonwealth Games, pulled things back by clinching the second round, much to the delight of the Indian spectators and officials who watched the proceedings with bated breath.
In the third and final round, Yogeshwar pulled off a stunning 'fitele', a term used by wrestlers when they twirl their opponent on their back a few times with great speed, to completely leave the Korean in a daze.
Yogeshwar was a little worried that he had a difficult draw but knew that he could still pull it off with a little luck.
"I was a little worried because I had to fight with Olympic champions and world champions. When I lost the quarterfinal to the Russian, I was wondering whether I will actually get a chance. But God had other ideas, and here I am with the bronze medal.
- London Olympics 2012 - Complete coverage
Yogeshwar injured his eye in the pre-quarter final against reigning World champion Besik Kudukhov of Russia but did not allow the injury to hamper his performance. His eyes were swollen and he had difficulty in sighting with the left eye.
"I got hurt in the earlier round, but in the Olympics we can't worry about these kind of injuries. We have to get out and fight," he explained.
With Yogeshwar's bronze, India have achieved their best medal tally in the history of the Olympic Games, bettering the one gold and two bronze medals they bagged in the Beijing Games four years ago.
Shooter Vijay Kumar has fetched a silver, while Saina Nehwal, Gagan Narang and five-time world champion boxer M C Mary Kom won bronze for the country in the ongoing edition.
India will now hope to add one more medal to its kitty on Sunday, the last day of competition, when star wrestler Sushil Kumar, who won a bronze in Beijing, takes part in the men's 66 kg category.