Star wrestler Sushil Kumar created history on Sunday, winning a silver medal at the London Olympics and scripting his name as India's best-ever individual Olympian.
The Indian grappler put up a superb show to reach the final, but was outclassed by Japan's Tatsuhiro Yonemitsu 3-1 in the gold medal bout of the 66kg class.
-London Olympics 2012 - Complete coverage
The medal is India's fourth from wrestling in Olympic history, Kasabha D Jadhav (1952), Sushil (2008)  and Yogeshwar Dutt (2012) having won bronze earlier.
Sushil is also the first Indian to win back-to-back individual Olympic medals.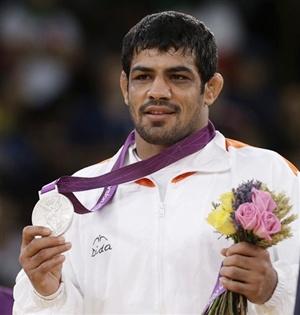 With Sushil's silver, India ended its London Games campaign with six medals, its best ever show at the biggest sports extravaganza.
Sushil trailed 0-1 after the first round and was out of the contest within 30 seconds of the second when Yonemitsu penetrated his defence, lifted him up and banged him down to fetch a decisive three-point lead.
The Indian had made a stunning comeback in the semi-final but could not repeat the showing in the final, although he reduced the margin by getting a point.
Earlier, the pin-up boy of Indian wrestling fought the best bout of his life as he came from behind to beat 3-1 in the semi-finals.
Sushil first used the Iranian technique to get over his opponent and then rolled him over for two points. A head butt by Tantarov assured him another point.
The second round undoubtedly belonged to the 25-year-old Kazakh wrestler as he put Sushil on the mat and tossed him over to get a 3-0 clincher.
When the third round started, the 29-year-old Indian looked tired and jaded, as within the first seconds, he conceded a 3-0 lead to the Kazakh. The match looked as good as over for Sushil, but he waited for that one inspirational moment and caught Tantarov by his leg and pegged him down to make it 3-3 with the vociferous Indian contingent egging him on.
This was followed by a Hercules-like act as he suddenly stood up with the Kazakh hanging on his shoulders. It probably was the defining moment for the Indian contingent's challenge at the biggest sporting spectacle. An Indian's show of strength at the world stage.
Earlier, he disposed of defending champion Ramazan Sahin of Turkey and then prevailed over Uzbekistan's Ikhtiyor Naruzov 3-1 in the quarter-finals.
Team manager Raj Singh said Sushil was unwell before the final and it affected him in the gold medal bout.
"He ate something before the final. He vomitted three times and was down with a bad stomach. So the dehydration affected him big time before the final and was unable to give his best in the final."
Sushil also injured his shoulder in the semis but his bad stomach affected him more.
Photograph: Paul Sancya/AP