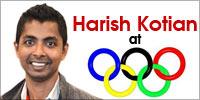 Sushil Kumar's silver medal win in the wrestling event at the London Olympics is also a proud moment for his wife Savi. Having watched him in action for the first time on Sunday at London, she is delighted that he continued his medal-winning run at the Games and etched his name in history as the greatest Indian Olympian.
Sushil was unable to maintain the good showing he displayed in the earlier rounds and lost to Japan's Tatsuhiro Yonemitsu 3-1 in the final of the 66kg bout.
- London Olympics 2012 - Complete coverage
But Savi was not complaining. She believes it is a great achievement to win an Olympic medal, whatever the hue.
"I am feeling very proud of him and I am very happy. I thank everyone for their support. We were a bit disappointed when he didn't win the gold medal, but silver is no less. But I must say that it is a big achievement to repeat the Olympic medal, and going one step higher is still better.
- 'Happy to deliver, even though medal was silver'
"I am happy he finished with silver," she told Rediff.com at the Excel Arena, in London, after the bout.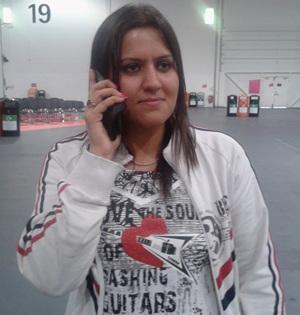 Savi said she is proud that her husband went out and competed despite being down with a stomach infection.
"Wrestling is a difficult sport. He was not well before the final, but fought till the very end. He could have just left the fight and given his opponent a walk-over, but decided to fight and have a shot at the medal, which is a sign of a great sportsperson. I am really proud of him," she said.
She revealed she was initially very tense, as she was watching him live for the first time, but her nerves relaxed once he made it to the final.
"I was tense during the final. This was because I had come to see him fight for the first time, and that too in a big event like the Olympics. So I was pretty nervous before every fight. But after he won the semi-final I was quite relaxed," she added.
Savi, who is the daughter of his coach, Satpal, said she and Sushil have hardly spent time together since getting married last year, but it hardly matters.
"He trained a lot, and has worked so hard for the last few months. It's been a year since we got married, but I think we have spent just two months together. It has been difficult for us to be away from each other, but I think it has paid off now," she said.
Photograph: Harish Kotian