WEIGHTLIFTING
Men's 69 kg
Katulu Ravi Kumar
The Odisha weightlifter is currently World No. 15 following his total lift of 311 kgs at the Asian Championships in April. The bodybuilder-turned-weightlifter came into the limelight in the 2010 Commonwealth Games in New Delhi where he bagged three gold. The London Games will serve as a great learning platform for this first timer.
Age: 25
Achievements
Gold:
Won gold at the New Delhi Commonwealth Games in 2010
Won three gold medals at the Commonwealth Games in Penang, Malaysia, in 2009
Silver:
Won a silver medal at the Asian Junior Men's Weightlifting Championship in Jordan in 2007
Bronze:
Won three bronze medals in the Senior Weightlifting Championship at Tongling, China in 2011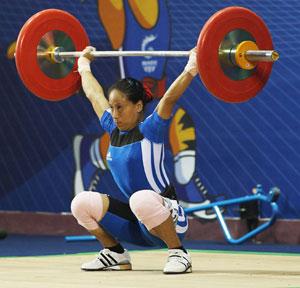 Women's 48kg
Ngangbam Soniya Chanu
Chanu is representing a discipline which has seen the menace of doping, but the Manipuri lifter will also have the perfect stage to open a new chapter in women's weightlifting. Chanu ranks tenth in the world in the women's 48kg category. She will go to London Olympics with a lot of experience and is capable of pulling off a miracle.
Age: 32
Achievements
Gold:
Won gold at the Commonwealth Weightlifting Championship in Malaysia in 2009
Won gold at the Commonwealth Weightlifting Championship in Cape Town, South Africa in 2010
Silver:
Won a silver medal at the first Afro-Asian Games in Hyderabad in 2003
Won a silver medal at the Commonwealth Weightlifting Championships in Melbourne, Australia, in 2005
Won a silver medal at the Commonwealth Games in New Delhi in 2010
Bronze:
Won a bronze medal in the Senior Asian Championships at Pyeongtaek, South Korea, in 2012
Complete coverage: London Olympics 2012