Manipur government would award Rs 50 lakh to boxer Mary Kom who won a bronze medal in the London Olympics.
-London Olympics 2012 - Complete coverage
The decision to give Rs 50 lakh and two acre land to Kom was taken at a cabinet meeting presided over by Chief Minister O Ibobi singh, an official spokesman said.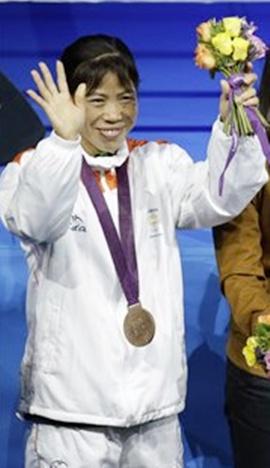 Kom would also be promoted to the rank of Additional Superintendent of Police in state police department after her arrival in the next few days.
"Kom has made the name for Manipur known in the sports arena in the world and brought prestige for whole country," the spokesman said.
He said two acres of land would be given to the international pugilist at Langol area in Imphal West district.
"We are certainly proud of her," Chief Minister Ibobi Singh commented at the meeting pointing out she was the first sportsperson in the entire north eastern region to win a medal at Olympics.
All the cabinet ministers who took part in Thursday's meeting praised Kom for her feat, said the spokesman.
Photograph: Patrick Semansky/ AP Photo