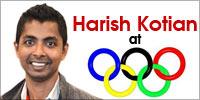 India's fortunes continued to tumbled at the London Olympics as boxer Jai Bhagwan went down to Gani Zhailauov of Kazakhstan in the men's lightweight 60-kg event at the ExCel South Arena 2, on Thursday.
Zhailauov, bronze medallist at the World Championships last year, proved too superior for the Indian boxer, registering a convincing 16-8 victory.
- London Olympics 2012 - Complete coverage
Bhagwan made a good start, taking a 3-2 lead in he first round, but was completely outplayed in the second.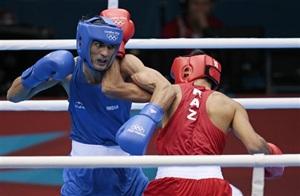 The Kazakh boxer was all over the Indian and took ten points from the round, while the Indian could manage just three.
It proved to be a decisive round as Zhailauov established a huge 12-6 lead.
Bhagwan tried hard to reduce the deficit but ran out of steam in the third and final round and was knocked out of the competition.
The Indian was also given an official warning during that bout for bending his head too much.
"The start was good but the warning did affect me. He was also trying to press me so the referee should have seen that too. The warning came at the wrong time and one warning can take you down and affect your momentum," Bhagwan said after the bout.
Zhailauov will now face fourth seeded Yasnier Toledo Lopez of Cuba in the quarter-finals.
Image: Kazakhstan's Gani Zhailauov, right, fights India's Bhagwan Jai in the men's lightweight 60-kg bout.
Photograph: Ivan Sekretarev/AP