Their reputation in tatters, Indian hockey team would look to salvage at least one victory from their disastrous Olympic Games campaign that has pushed them into a playoff to avert the bottom place finish in the 12-team competition.
-London Olympics 2012 - Complete coverage
India will take on South Africa on Saturday in the playoff to decide the 11th and 12th sports, a match-up similar to that of the 2006 World Cup in Monchengladbach, where India managed to put it across the Southern African rivals to finish 11th.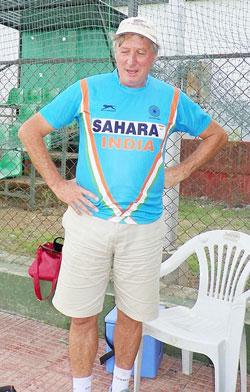 The Indian team's mental fragility has been exposed during their five league matches that left the jittery and fumbling Indians struggling against opponents, who were determined to leave their mark in the Olympic competition.
India, making a return to the Olympic arena after failing to qualify for the 2008 Olympics in Beijing, struggled to find their feet and the players did not show any determination to be combative against opponents who had superior physique and used it effectively to dispossess the Indians.
"We have struggled throughout the tournament. The players are aware that they have not given a good performance of their skills," coach Michael Nobbs said.
"We've occasionally got the basics right and managed to get into the circle, but the finishing has been poor. At the other end, we've continued to concede soft goals," he said.
Nobbs says the Indian team faltered badly where it mattered most.
"Performing at the other events ahead of the Olympics does not matter. This is what was the big stage where we should have played better," Nobbs said.
Only South Africa have conceded more goals than India in their respective preliminary league matches on these Olympics.
But India were the only side not to have secured any point from five group matches, while South Africa had one point to show from a drawn game.
Under the rules for positional play-offs at the Olympic Games, there will be a direct encounter between teams of two pools in similar spots in the respective groups, other than those who advance to the semifinals.
Indian hockey has a mixed bag of memories associated with London. It was in the capital of Great Britain that the hockey team clinched the 1948 Olympic gold medal in what was independent India's first major international sporting achievement.
Thirty-eight years later, when London was the venue of the 1986 World Cup, the Indian team was pushed to the bottom of the 12-team competition, losing the playoff to Pakistan for the last spot.
Pakistan have finished seventh in these Olympics after recalling some other their senior players who had defied directives from the hockey chiefs and featured in the World Series Hockey, a tournament deemed unsanctioned by the International Hockey Federation.
Other than not qualifying for the 2008 Olympics, eight-time gold medallists India's previous lowest position in the Olympic Games, was the eighth place in 1996 at Atlanta.