Indian hockey captain Bharat Chetri says the team is not learning from its mistakes and it is becoming a serious problem after three straight defeats in the Olympic Games.
-London Olympics 2012 - Complete coverage
Dejected at the 2-5 defeat by reigning Olympic champions Germany on Friday that left India at the bottom of the pool with no point from three outings, Chetri said errors were being repeated in one match after another.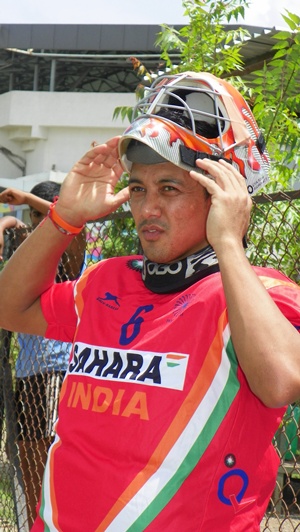 "We are committing the same mistakes in every match," Chetri said.
"Errors have crept into our game. But instead of learning not to repeat them we just go on and make the same mistakes in the next game. It is not looking very nice," the captain said.
"This has become a serious problem, and it could cost us a lot more in the matches to come," he said.
Before Friday's match against Germany, India suffered a 2-3 defeat by The Netherlands and a 1-3 reversal against New Zealand.
Ranked No. 10 the world, India are back in the Olympic arena after eight years as the men's hockey team failed to qualify for the 2008 Olympic Games in Beijing.
Coach Michael Nobbs said Germany gave India a lesson in how to play attacking hockey.
"Germany deserved to win, but what they did today was give us a lesson in attacking hockey," Nobbs said, adding that Germany was one of the world's best teams in defense but today's display was entirely different.
"I did not expect such an attacking display of hockey by Germany, who are the premier defensive side in the world," he said.
Photograph: Laxmi Negi/Rediff.com