India slumped to a humiliating 2-5 defeat against formidable Germany in Group B and went out of the reckoning for a berth in the semi-finals of the men's hockey competition at the London Games on Friday.
Facing a must-win situation following two straight defeats in their first two games, India put up another pathetic display and allowed the Germans to dictate terms almost right through the match.
- London Olympics 2012 - Complete coverage
The Indians were no match for their speedy opponents and their defence was split open at will by the Germans.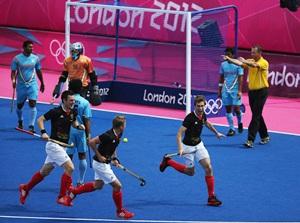 Young forward Florian Fuchs (7th minute, 16th, and 36th) scored a brilliant hat-trick, while Oliver Korn (24th) and Christopher Wesley (33rd) were the other goal-getters for the European giants.
For India, VR Raghunath (13th) and Tushar Khandker (62nd) reduced the margin of defeat.
India had lost to The Netherlands 2-3 and New Zealand 1-3 in their first two fixtures.
The eight-time champions, who returned to the Olympic fold after eight years, are sixth and last in Group B.
The Bharat Chetri-led team, coached by Australian Michael Nobbs, will now have to fight for minor placings.
India face Korea on Sunday before finishing off their group campaign against Belgium on August 7.
The Netherlands and Germany lead the Group with three wins from as many games. Korea are placed second with three points from two games, just ahead of New Zealand, who have three points from three matches.
Argentina hold Australia
Meanwhile, Argentina created a flutter as they overcame a 2-0 half-time deficit to hold No 1-ranked Australia 2-2 and earn its first points.
Midfielder Matthew Butturini put the Aussies ahead with his third goal of the tournament, from an 11th-minute penalty-corner, and Jamie Dwyer added a second in the 35th-minute to put the Aussies high in the saddle. But Argentina captain Matias Vila scored just after half-time from open play and defender Gonzalo Peillat leveled the score from a penalty-corner in the dying minutes.
Dwyer's goal was his fourth of the tournament and his 180th for Australia, making him the all-time top scorer for his team, overtaking forward Mark Hager.
In another match, the Netherlands beat New Zealand 5-1 for its third straight win.
New Zealand took an early lead from a fourth-minute field goal from forward Simon Child, who played his 170th game for his side. But goals from defender Mink van der Weerden and forwards Roderick Weusthof and Billy Bakker put the Netherlands 3-1 up at half-time.
In the second half, Bakker added his second goal and midfielder Robbert Kemperman scored to complete the rout.
Photograph: Daniel Berehulak/Getty Images