India's lone woman wrestler Geeta Phogat's campaign in the Olympic Games came to an end when she was trounced by the formidable Tetyana Lazareva of Ukraine in the women's freestyle 55 kg repechage round at the ExCel stadium in London on Friday.
The 23-year-old was simply no match for her strong Ukrainian opponent, who scored a resounding 3-0 victory in just two periods.
Lazareva bagged three classification points while Geeta got none.
Geeta made it to the repechage rounds as her first round opponent Canada's Tonya Lynn Verbeeek went all the way to the final. It gave the Indian another chance to have a shot at the bronze medal.
But she was taken off guard by Lazareva in the first period itself, with the Ukarainian fetching as many as eight points, to ensure that the Indian was virtually out of the Olympics.
Geeta made a tactical blunder and her opponent took full advantage of it to nearly pin her down and she could not just wriggle out from that position.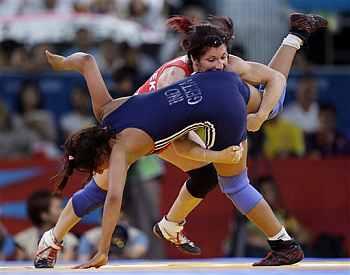 Trailing by a huge margin, Geeta put up a better display in the second period but Ukrainian got the one point she required to wrap the contest.
"I just could not do well in the first round. I got badly entangled and could not come out of her grip. She really took full advantage of my predicament and it was very tough to come back," Geeta said after the bout.
Geeta said her opponent was technically superior and it showed in the way she fought.
"She is a very good wrestler and technically superior than me but she can be beaten," she said.
Geeta, who won the gold medal in the 2010 Commonwealth Games in New Delhi, said that she lacked the experience and was a little overawed by the situation.
"You need a little bit of experience to do well in the Olympics. I lacked that experience. But I have age on my side and will keep learning from international events," she said.
On her earlier bout with Tonya Lynn Verbeek of Canada, she said: "On my first match to the Canadian I failed to take the clinch and score. That was my mistake.
"In the repechage, I was down in the first round, so I had to take a lot of risk in the second round against the Ukranian girl. I am not unhappy with the performance."
On being the first female wrestler to represent India at the Olympic Games, she said: "I need more international exposure and then I will be ready. I come from a village where traditionally girls don't go out and play sport so I struggled a lot to come this far and to get to this position where I am at the Olympics.
"Today everyone in my village recognises me. I am very proud to be here and I am hoping to be at the next Olympics," she added.
Earlier in the day, Geeta began her Olympic campaign on a dismal note as she lost her first round bout to world number 2 Verbeeek.
Photograph: Paul Sancya/AP