Following her qualification for the Olympics, India's ace boxer MC Mary Kom tells Rediff.com's Laxmi Negi she is confident of clinching a medal at the London Games.
The Kom household in Imphal is abuzz with activity and Onler Kom (boxer MC Mary Kom's husband) is busy juggling with answering the ever-ringing phone and cooking a hearty meal for the students of Mary Kom boxing academy.
What's the occasion?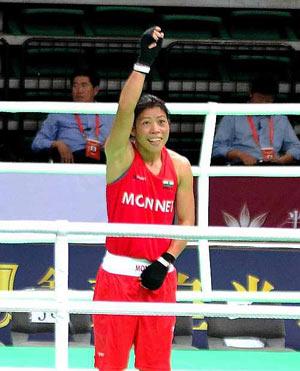 'Magnificent Mary' has done it again! This time Mary Kom has become the first and only Indian women boxer to qualify for the Olympics.
But this time around she had to play the waiting game -- something that's against her style in the boxing ring.
Nicola Adams of England paved the way for Mary by getting the better of Russia's Yelena Savelyeva 11-6 in the semi-final of the World Championships, in Qinhuangdo on Friday.
Though Mary had lost in the pre-quarters to Adams, she was confident of qualifying for the London Games.
The 29-year-old admits, "Adams is a strong boxer and I was confident that she would beat the Russian girl."
This World Championship was the toughest for India's top boxer as she was fighting in the 51 kgs weight category and it was her only chance to book an Olympics berth.
It was an unusual day for Mary's twins, too, who came home after school and switched on the telly to watch the bout, only to notice that their mama was not in action.
It was only later when their father Onler reminded them that they had to support the lady in the blue uniform (Nicola Adams) to help their mama win.
Looking back at a decade of toil and hard work put in to reach this stage, relief is evident in Mary's voice.
So, did she finally cry? She answers in the affirmative. But the tears were for a different reason.
The remorse of returning home without a World Championship medal is clearly evident in her voice as she keeps repeating herself, "I am upset that I didn't win a medal for my country."
"I could not sleep and the fact haunts me that for the first time I will be coming home empty handed," she adds.
But no sooner does complete this statement, she says optimistic, "I will surely come back with a medal at the Olympics."
That's the Mary Kom we know of -- the fighter.
The expectations of qualifying for the Olympics were high on Mary, whos is the AIBA brand ambassador.
But she has taken all this in her stride and the five-time World Champion is now inching closer towards her dream of winning an Olympic medal.
Lets hope the long wait ends in London.