India need to play top-ranked teams on a consistent basis if they wish to return among the top league of world hockey, feels chief coach Michael Nobbs.
Nobbs said that the upcoming four-nation test event for the London Olympics, will provide India a first hand knowledge about their present status.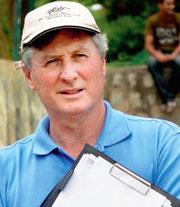 India will lock horns against hosts Great Britain, World champion and Beijing Olympics bronze medallist Australia and reigning Olympic champions Germany in the test event, to be held in London from May 2 to 6.
"In the test event we are playing three of the four top teams in the world and it should serve as good preparation for the Olympics. But we need to play top teams consistently if we want to improve our World ranking," Nobbs said.
With a fit squad at his disposal, the Australian is hoping to create a few upsets in the tournament. But he is also realistic about India's chances in the event.
"After the Olympic qualifiers, we had a three weeks training programme where we worked on our speed and strength. The good thing is that there are no injury concerns in the team," said Nobbs, who guided India to this year's London Olympics after missing out on the 2008 Beijing edition.
Unlike normal green artificial turfs and white balls, hockey in this year's London Olympics will be played in blue and pink pitches with yellow balls at the Hockey Centre in the Riverbank Arena, the main venue for the event.
Nobbs said India would be playing on such a surface for the first time in the test event, unlike some other Olympic participating teams.
"Other teams have been playing quite frequently on blue pitches, but we will be playing on the blue pitch for the first time. I have been told that the blue pitch at Hockey Centre has some different characteristics. So, it will be a good experience for us," he said.
© Copyright 2021 PTI. All rights reserved. Republication or redistribution of PTI content, including by framing or similar means, is expressly prohibited without the prior written consent.