In the wake of the pressing demands from Indian athletes to include their personal coaches in the Olympic contingent, the Athletics Federation of India has chosen four coaches for the London Games, giving preference to those who has medal chances.
Shive Gowda, father-cum-coach of Vikas Gowda, Krishna Poonia's husband Virender, chief national coach Bahadur Singh will be accredited while Alexander Artsybashev and R Gandhi will also go in turn as race walking coach in London Games.
"For 14 athletes the quota of coaches allotted by the IOA is four. So we have chosen Virender Poonia, Shive Gowda, Alexander Artsybashev (50km walk) and R Gandhi (20km walk) -- to go in turn -- and of course chief national coach Bahadur Singh," a top source in the AFI said.
"We have picked coaches on the basis of medal prospects and those who have qualified with 'A' standard," he said.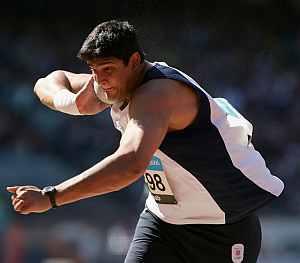 Discus throwers Gowda and Poonia qualified with 'A' standards as did the three 20km race walkers Gurmeet Singh, Baljinder Singh and K T Irfan.
The 20km walk race will be held on August 4 and Gandhi will be there to coach the three athletes. After that, Alexander will replace him as the 50km walk event is on August 11.
There has been pressing demand by the Indian athletes to include their personal coaches in the contingent but all of them cannot be accommodated as the quota was only four.
Among those who wanted to take personal coach was triple jumper Mayookha Johny who said that if her coach Shyamkumar Singh was not taken in the athletics contingent he should be given special passes to be in the stadium on the day of her competition.
But the AFI source said that it would be difficult to arrange passes for each and every athlete as the final authority lies with the IOA.
"We will try to coordinate with the IOA. But it will be difficult to provide passes for each and every athlete.
Moreover, each athlete has got two passes and from that he or she can accommodate the coach," he said.
Photograph: Mark Dadswell/Getty Images
© Copyright 2022 PTI. All rights reserved. Republication or redistribution of PTI content, including by framing or similar means, is expressly prohibited without the prior written consent.