Title-holders Germany and the Netherlands will meet in the final of the men's hockey tournament at the London Olympics after contrasting victories in Friday's semi-finals.
While the Germans rallied from a goal in arrears in each half to stun World champions Australia 4-2 in the first semi-final after edge-of the-seat action, the Dutch, ranked world No 2, demolished 1998 gold medallists Great Britain to win 9-2.
- London Olympics 2012 - Complete coverage
Roderick Weusthof scored twice in the first 14 minutes for the Dutch, before Britain's Ashley Jackson halved the deficit.
Then the crowd of 16,000 sat back and watched as the Dutch put on a show of ruthless artistry.
Billy Bakker scored a hat-trick, Weusth of completed his, five-time Olympian Teun de Nooijer tapped in for one, and Mink van der Weerden and captain Floris Evers also scored.
Robert Moore scored a late field goal for Britain to reduce the margin.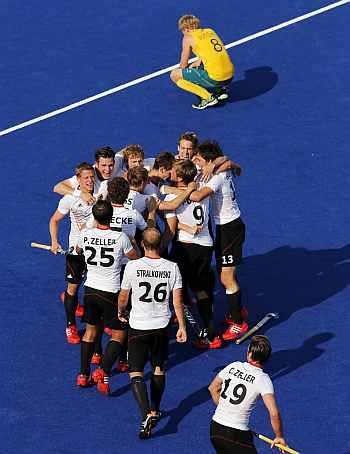 Earlier, in a first half played at blistering pace, Australia went ahead after German keeper Max Weinhold failed to control a shot from Glenn Turner and Kieran Govers fired the volley rebound through his legs.
Germany levelled minutes later with a low penalty-corner flick by Moritz Fuerste and the 1-1 scoreline at half-time was a fair reflection of the action.
Germany looked more dangerous at the start of the second half but it was Australia's Turner who put his team back in the lead, sneaking the ball over Weinhold who had gone to ground to save two previous attempts.
Germany had a goal disallowed 12 minutes into the second half when Oliver Deecke volleyed an aerial pass over the Australian keeper, the umpire deciding after a video referral that Deecke had raised his stick above shoulder height.
But the Germans bounced back from the disappointment and levelled when Matthias Witthaus, completely unmarked in the circle, converted a cross from Tobias Hauke.
They went ahead for the first time through a penalty-corner flick by Timo Wess with just 11 minutes to go.
Australia, needing to score, pushed forward, giving Germany space to net another goal on a quick counter-attack with seven minutes to go.
Benjamin Wess sprinted for a long pass down the left touchline, slammed the ball across the circle and Florian Fuchs dived in to deflect it over the line.
Photograph: Eranga Jayawardena/AP