Indian women archers started their campaign on a disappointing note as they came up with a ninth place finish at the women's archery team competition in the ranking round held at the Lord's Cricket Ground in London on Friday.
- S Korea's blind archer sets world record, Indians flop 
The Indian women comprising world number one Deepika Kumari, Laishram Bombayla Devi and Swuro Chekrovolu shot a combined score of 1938 (662+651+625) to finish ahead of Italy, Britain and Ukraine, who took up places from 10 to 12.
Korea came up with a combined score of 1993 to top the ranking round, followed by United States (1979) and Chinese Taipei (1976).
In the individual competition, Deepika was placed at the eighth spot after scoring 662. The Indian had scored 327 in the first half to be ranked 18th, but she recovered well to be ranked second in the second half after scoring 335.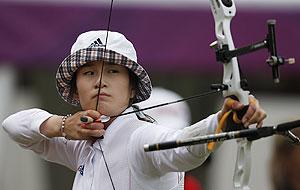 Bombayla's score of 651 (327+324) helped her to rank asthe next best Indian at the 22nd spot, while Chekrovolu finished at the 50th place after scoring 625 (309+316).
Korea's KI Bo Bae and Lee Sung Jin took the first two places after coming up with identical scores of 671, while Tan Ya-Ting of Chinese Taipei was placed third.
Results:
Women's Individual 70m Ranking Round
1. Ki Bo Bae, South Korea, 671
2. Lee Sung Jin, South Korea, 671
3. Ya-Ting Tan, Taiwan, 671
4. Khatuna Lorig, United States, 669
5. Chia-En Lin, Taiwan, 667
6. Miki Kanie, Japan, 665
7. Carina Christiansen, Denmark, 663
8. Deepika Kumari, India, 662
9. Ksenia Perova, Russia, 659
10. Mariana Avitia, Mexico, 659
11. Aida Roman, Mexico, 658
12. Ana Maria Rendon, Colombia, 657
13. Alejandra Valencia, Mexico, 657
14. Miranda Leek, United States, 656
15. Jennifer Nichols, United States, 654
16. Ren Hayakawa, Japan, 654
17. Inna Stepanova, Russia, 653
18. Bishindee Urantungalag, Mongolia, 652
19. Pia Lionetti, Italy, 652
20. Cheng Ming, China, 651
21. Choi Hyeonju, South Korea, 651
22. Bombayla Devi Laishram, India, 651
23. Kristina Timofeeva, Russia, 650
24. Natalia Valeeva, Italy, 650
25. Fang Yuting, China, 649
26. Begul Lokluoglu, Turkey, 648
27. Xu Jing, China, 646
28. Kaori Kawanaka, Japan, 646
29. Marie-Pier Beaudet, Canada, 645
30. Elena Richter, Germany, 645
31. Lidiia Sichenikova, Ukraine, 645
31. Denisse van Lamoen, Chile, 645
33. Ekaterina Timofeyeva, Belarus, 644
34. Kristine Esebua, Georgia, 642
35. Maja Jager, Denmark, 642
36. Louise Laursen, Denmark, 641
37. Berengere Schuh, France, 640
38. Natalia Lesniak, Poland, 639
39. Chien-Ying Le, Taiwan, 638
40. Ika Yuliana Rochmawati, Indonesia, 638
41. Un Sil Kwon, North Korea, 638
42. Naomi Folkard, Britain, 637
43. Evangelia Psarra, Greece, 636
44. Jessica Tomasi, Italy, 635
45. Leidys Brito, Venezuela, 634
46. Karen Hultzer, South Africa, 631
47. Alison Williamson, Britain, 629
48. Rachelle Anne Cabral, Philippines, 627
49. Christine Bjerendal, Sweden, 625
50. Chekrovolu Swuro, India, 625
51. Kateryna Palekha, Ukraine, 624
52. Reena Parnat, Estonia, 621
53. Iria Grandal, Spain, 618
54. Anastassiya Bannova, Kazakhstan, 614
55. Zahra Dehghanabnavi, Iran, 614
56. Nada Kamel, Egypt, 611
57. Amy Oliver, Britain, 608
58. Elisa Barnard, Australia, 601
59. Tetyana Dorokhova, Ukraine, 599
60. Nurul Syafiqah Hashim, Malaysia, 599
61. Sherab Zam, Bhutan, 589
62. Nathalie Dielen, Switzerland, 528
63. Maureen Tuimalealiifano, Samoa, 520
64. Rand Al-Mashhadani, Iraq, 498

Women's Team Ranking Round
1. South Korea (Ki Bo Bae; Lee Sung Jin; Choi Hyeonju), 1993
2. United States (Khatuna Lorig; Jennifer Nichols; Miranda Leek), 1979
3. Taiwan (Ya-Ting Tan; Chien-Ying Le; Chia-En Lin), 1976
4. Mexico (Mariana Avitia; Alejandra Valencia; Aida Roman), 1974
5. Japan (Kaori Kawanaka; Miki Kanie; Ren Hayakawa), 1965
6. Russia (Ksenia Perova; Inna Stepanova; Kristina Timofeeva), 1962
7. China (Cheng Ming; Fang Yuting; Xu Jing), 1946
8. Denmark (Carina Christiansen; Louise Laursen; Maja Jager), 1946
9. India (Deepika Kumari; Bombayla Devi Laishram; Chekrovolu Swuro), 1938.
10. Italy (Pia Lionetti; Jessica Tomasi; Natalia Valeeva), 1937
11. Britain (Naomi Folkard; Amy Oliver; Alison Williamson), 1874
12. Ukraine (Tetyana Dorokhova; Kateryna Palekha; Lidiia Sichenikova), 1868
Photograph: Suhaib Salem/Reuters