Dara Torres announced her retirement from swimming after she came up agonisingly short in her bid to make the United States team for the London Olympics on the last day of the trials on Monday.
The 45-year-old mother, who defied the odds for years by beating women much younger than her, needed to finish in the top two of the women's 50 metres freestyle to qualify for her sixth Olympics but could only manage fourth place.
"This is really over, that's it," she said.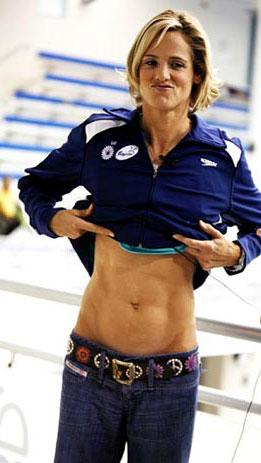 "I'm going to enjoy some time with my daughter and cheer on the US team from afar."
Jessica Hardy finished first in 24.50 seconds to add the 50m title to her victory in the 100m freestyle earlier in the meet after she failed to qualify in her main event, the 100m breaststroke, which she holds the world record in.
"I'm still practicing being a sprint freestyler exclusively," said Hardy, who has been at the centre of a disputed doping case for four years that forced her to miss the Beijing Olympics.
Hardy went through a long legal saga after taking a nutritional supplement that the manufacturers later said had been accidentally contaminated and was only cleared to compete at the Olympic Trials last year.
Torres was given a huge reception before her race and the emotions were overflowing when her race ended and it became apparent her dream was over.
When she hauled herself out of the pool, she climbed into the stands to hug her six-year-old daughter, who watched the race with a lime-green T-shirt that said "Go Mom," and walked her on to the deck.
Torres won 12 Olympic medals, including four gold, during her career, which began in Los Angeles way back in 1984 when she was still a teenager.
She won relay golds in Los Angeles, Barcelona (1992) and Sydney (2000) then came out of retirement to make the US team for Beijing aged 41 and won three silver medals.
Since then, she has been plagued by injury and undergone surgery for shoulder and knee problems, and only entered the 50m freestyle at the trials because he body couldn't cope with any more races.
After making a tardy start off the blocks, she made up ground in the middle of the lap but faded in the final few strokes, finishing in 24.82, just 0.09 from making the team.
"I don't think there is anything that I would change. I came fourth at the Olympic Trials against girls half my age," Torres said.
"I'm used to winning, but that wasn't the goal here, the goal was to try to make it. I didn't quite do it, but I'm happy with how I did."