Algerian 1,500 metres medal contender Taoufik Makhloufi was thrown out of the London Olympics for not trying in his 800 heat on Monday, prompting a disappointed response from his team who felt he was hard done by.
Makhloufi, who won his 1,500 semi-final in three minutes 42.24 seconds, had been forced to run in the two lap race after his team failed to withdraw him from it by Sunday's deadline, an International Association of Athletics Federations spokeswoman said.
- London Olympics 2012 - Complete coverage
The 24-year-old lined up at the start of heat five at the Olympic stadium on Monday but was already well behind the field at the start of the back straight before stopping running completely another 100 metres into the race and wandering back across the infield past the pole vault area.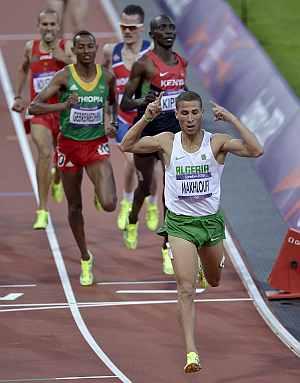 "The Referee considered that he had not provided a bona fide effort and decided to exclude him from participation in all further events in the competition," read an IAAF statement.
Makhloufi stormed past Olympic and world champion Asbel Kiprop in a stunning to finish to his 1,500 heat on Sunday, marking him out as a possible title contender.
The IAAF spokeswoman said he could be reinstated for Tuesday's 1,500 final if he could get a medical certificate from a local doctor.
Mohamed Azzoug, head of the Algerian mission, told Reuters: "We were a little bit disappointed that a decision was taken before the athlete was given a chance to defend himself.
"That's what worries us, because at the moment we know that our athlete is injured, in the knee, and we took him to the Olympic village clinic.
"So a doctor should examine him and after examination and after X-rays, then we should be able to have an opinion on what really happened, and if he would be able to take part in the race tomorrow."
Makhloufi, the African champion in the 800, has shown a marked improvement this year, bringing his personal best down from 3.32.94 to 3.30.80 in the 1,500.
The exclusion is the latest in a string of incidents at the Games where athletes have not tried to win in order to manipulate results or draws in their ultimate favour.
The worst was the badminton fiasco, where eight women from China, Indonesia and South Korea were thrown out of the Olympics for playing to lose group matches in order to get a better draw in the knockout stages.
There have been other incidents which have not drawn any punishment, with organisers deciding that spectators had not been denied a competition.
French rider Mickael Bourgain quit the cycling road race after just a few kilometres as planned on the first weekend of the Games having been forced to take part in order to compete in his favoured keirin track event.
Last Thursday, teenage cyclist Philip Hindes appeared to admit he deliberately crashed in cycling's team sprint event to ensure Britain were handed a restart because they set off badly.
Photograph: Anja Niedringhaus/AP