India might have been knocked out of the Junior Asia Cup but the senior side's Australian coach Michael Nobbs is not overtly dismayed as he feels the youngsters showed enough potential for long-term interests such as the Junior World Cup next year.
India failed to defeat hosts Malaysia in the semi-finals of the Junior Asia Cup on Thursday.
Nobbs said India's prime target is next Junior World Cup and therefore long term interests are more important.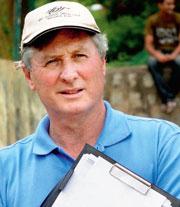 "If winning this tournament is our priority we could have easily packed our team with some of our sparkling talents with us like Kothajit Singh, Chengalsana, SK Kuttappa and Manpreet Singh, who all played in the recent London Olympic Test event," he said.
"They will in any case be there in the junior team after the Olympics. However, Malaysia's target was to qualify for the Junior World Cup, so they targeted peak performance here," he reasoned.
"We did not have that pressure as we qualified for the 2013 Junior World Cup as hosts. That's why Malaysia had as many as six players in the present team who will be over age by the time 2013 event is held. Contrarily, all our boys here in Malacca will have age on their side for the same tournament," he added.
Nevertheless, Nobbs said the young players have a lot of work to do as far as fitness and tactics were concerned.
"The juniors here have to improve their fitness, tactical play and set-piece drills. They are with us in the camps, and will have continued training in the future where all these aspects will be taken due care of," the Australian said.
Nobbs feels Indian coaches have to go a long way in seamlessly training the boys on the style and pattern which is in sync with the seniors.
"Yesterday we gifted away our game to the Malaysians. We should have gone for full press, at least in the second half," he evaluated.
"We at the senior level advocate Asian style of attacking hockey and it should be the key for the junior programs too. This will happen with the players getting enough practice, fitness.
"This lot of players is hugely talented and skillful. We will persist with them."