An Olympic medal is the biggest dream of her life and ahead of the only qualifying event for women boxers, India's five-time world champion M C Mary Kom said a podium finish in London would give her the freedom to leave the ring on a high.
The 29-year-old Manipuri, who is a living legend in women's boxing and nicknamed 'Magnificent Mary' by the International body, leaves on Tuesday for the World Championships starting on May 9 in Qinhuangdao, China.
- I was born to do only boxing: Mary Kom
Women's boxing makes its debut at the Olympics in London this July in three weight categories -- 51kg, 60kg and 75kg -- giving Mary Kom a chance to add a title that would complete her decorated cupboard.
"I am at my best right now and Olympic is my biggest dream. If I win a medal there, it will set me free as far as my future is concerned. I might continue or might decide to go," Mary Kom said ahead of the 10-member team's departure.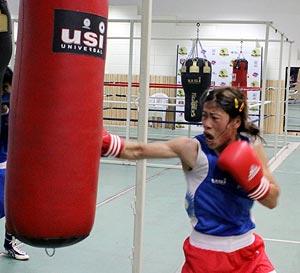 After over a decade inside the ring, the mother-of-two has achieved everything that is there to be achieved inside the ring and she says even if a medal doesn't come in London, she would be content with what she has done.
"It is important (that I win an Olympic medal) but it is not everything. After fighting it out for over 10 years, I have got nothing to prove," she asserted.
"Besides, if I put too much pressure on myself, I might not be able to do well. I have to take it one bout at a time," she said.
She expects the competition to be more tough than ever given that an Olympic berth is at stake.
"I can't take anyone lightly. I have to take each of my opponent very seriously, concentrate hard and remain confident without taking too much pressure. That's a lot of work," she chuckled.
Apart from Mary Kom, Asian champion L Sarita Devi (60kg) and Pooja Rani (75kg) are the other Indian competitors in the Olympic categories and national coach Anoop Kumar is quite optimistic about their chances as well.
"The only hitch is the quota that are allotted for each region. Even if say four Asians qualify for the quarter-finals, the slot available for the region are just two. So let's see, luck would play a role but these girls are at par with others and I am sure will do well," said Kumar.
Sarita, who along with Mary won a gold medal at last month's Asian Championships, said she has a point to prove after being forced to change her original weight category of 51kg due to Mary.
"The Asian Championships was the first time I competed in the 60kg division. I did not know what would happen but I managed to pull it off and by qualifying for Olympics, I want to prove myself once again because I have changed five weight categories and managed to do well in all of them," she said.
"I was demoralised after being told that I could no longer compete in the 51kg division. Jumping a division and competing within months of that requires a lot of dietary changes and it can be very punishing on the body. But I am the adamant sort, so when I decide to do something, I do it," she added.
Asian Championships silver-medallist Pooja, meanwhile, is just living the moment and does not even want to think about pressure.
"I am so glad with way my career has gone so far. I am just enjoying this and hopefully this would help me do better and qualify for the Olympics," she said.
The Indian squad for the World Championships:
Olympic qualifiers Weight Divisions: M C Mary Kom (51kg), L Sarita Devi (60kg), Pooja Rani (75kg).
Other weight divisions: Pinky Jangra (48kg), Sonia Lather (54kg), K Mandakini Chanu (57kg), Meena Rani (64kg), Neetu Chahal (69kg), Jenny RL (81kg), Kavita Chahal (+81kg).
Photograph: Hitesh Harisinghani