Justin Gatlin is back. So is Tyson Gay.
Eight years after winning Olympic gold and two years after concluding a doping ban, Gatlin secured his return to the Games by running an eye-catching 9.80 seconds to win the 100 metres at the US Olympic trials on Sunday.
It was the second fastest time of the year after Usain Bolt's 9.76 seconds and a personal best for the 30-year-old Gatlin, whose previous quickest time was the 9.85 he ran to win gold in Athens.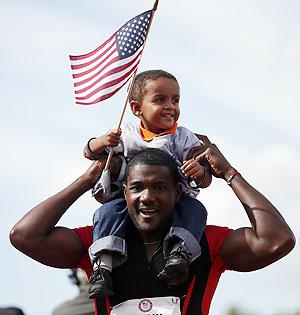 Gay, coming back from hip surgery after nearly a year off the track, also looked ready to take on the world's best in London as he clocked 9.86 for second.
"Everything seems so surreal," a smiling Gatlin, dressed in a red Team USA uniform, told reporters. "I just went out there and gave it my all."
His start was not the greatest but by 35 metres Gatlin looked like the runner of old as he turned on his speed with Gay close behind.
"His execution down the track was almost flawless," said his coach, retired sprinter Dennis Mitchell.
It left Gatlin confident he could regain the sprint title in London ahead of the likes of Jamaica's world record holder Bolt and world champion Yohan Blake.
"I think I can go faster ... enough to win the gold," Gatlin said.
Gay had one word to describe his emotions.
"Bittersweet," he said. "I always like to win. I came in second, but I guess at the end of the day it was about making the team, so I got to make I sure I turn this little bit of frown into a happy face.
"For me to start training in March and make the team is a beautiful accomplishment."
Former junior college champion Ryan Bailey claimed the third spot in 9.93, while 2008 Olympic bronze medallist Walter Dix finished last in 10.95 as leg problems continued to hamper him.
"Tried to test it one step at a time," Dix said. Things like this happen. I really can't say much about it."
The sprint came after LaShawn Merritt and Sanya Richards-Ross had delivered the fastest 400 metres times of the year.
SPECIAL DAY
Olympic champion Merritt, who has also served a doping ban since his Beijing triumph, romped home in 44.12 seconds to defeat collegiate winner Tony McQuay and Bryshon Nellum, who four years ago was shot in both legs.
"I have been training very hard this season ... if it takes 43 (seconds) and digging in London I'm willing to go there," Merritt said of his title defence.
McQuay ran 44.49 and Nellum finished in 44.80.
"It's been a long journey for me," Nellum said. "I finally had a healthy season."
Nellum was shot on a street corner in Los Angeles in October 2008 and underwent three surgeries afterwards.
"I was running on one leg at practice," the 23-year-old recalled. "Like a baby, I had to crawl before I walked. Before I ran."
Athens Olympic champion Jeremy Wariner was a well-beaten sixth in 45.24.
Not to be outdone by the men, former world champion Richards-Ross breezed home in 49.28 seconds in the women's race.
She outran Dee Dee Trotter (50.02) and Francena McCorory (50.43).
"Today was phenomenal," Richards-Ross said. "It's a dream come true. You really can't think about it (the Olympics) until you get past this."
In the field, Reese Hoffa popped the longest shot put of the outdoor season to pace the always tough squad for the Games.
The former world champion hit a world-leading 22.00 metres on his third attempt to outdistance world indoor champion Ryan Whiting and Olympic silver medallist Christian Cantwell.
Whiting threw 21.66 and Cantwell 21.28.
Olympic medallists Stephanie Brown Trafton and Jenn Suhr also booked return trips to the Olympics in women's field events.
Surprise 2008 gold medallist Brown Trafton dominated the discus, closing out the competition with a throw of 65.18 metres.
Suhr, the Beijing silver medallist, cleared 4.60 metres in the pole vault.
Collegian Marquise Goodwin won the long jump on his final leap, going 8.33 metres to defeat William Claye.
The trials select the US team for the London Games and only the top three finishers in each event book a spot provided they meet the qualifying standard.
Photograph: Lucy Nicholson / Reuters