All of 18, she is World No 1 and India's biggest hope for an Olympic medal but Deepika Kumari is far from intimidated by the burden of expectations as she feels the London Games are not some kind of a "ghost" to be scared of.
Besides the skills, much of Deepika's success at this young age is attributed to her cool demeanour, similar to India cricket captain and her state-mate Mahendra Singh Dhoni.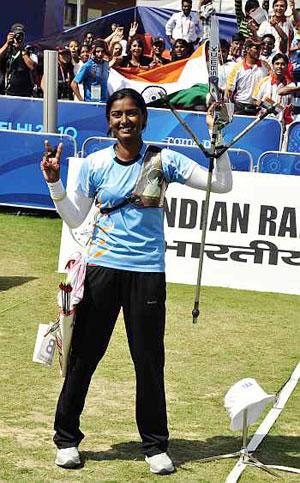 In fact, Deepika met Dhoni in Ranchi this year and the archer spoke highly of the World Cup winning skipper.
"He is a great personality and his achievements speak for themselves. It feels great that we belong to the same place. It was a simple exchange of pleasantries. But it was a memorable experience.
"Hope I can also achieve the ultimate goal in a sportsperson's life, winning an Olympic medal," the media-shy Deepika said.
Asked the secret of staying cool under pressure, Deepika was quick to reply: "Olympic is not a ghost, so there is nothing to be scared about. I have the self belief and confidence... That's how, I am here," the Commonwealth Games double gold medallist added.
She rejected comparisons with Dhoni.
"Cricket and archery are two very different sports. But yes, like winning the World Cup is the ultimate dream of a cricketer, for us it's getting an Olympic medal. With The Lord's being the venue it would be a special moment."
The Ranchi girl felt wind will play a big role in the event.
"We have heard that London will be very windy this time of the year. It will be a real challenge to get used to that quickly. Hopefully, we will get adequate time to adjust to the conditions there."
Deepika said sleep and prayers keep her fresh and motivated.
"I sleep, when I am not shooting -- you hardly get time after practising for so long (almost eight hours a day)."
Her favourite hymn, is 'Itni shakti humein dena daata'.
"It gives mental strength, something which is our main focus in the build up to the Games."
Asked whether she misses her parents staying throughout the year at the camp at SAI training ground in Kolkata, Deepika quipped, "I will miss them after winning the medal."
"We are like a family here... I look up to my teammates (Chekrovolu Swuro and Laishram Bombayla Devi) as my elder sisters."
She also said she does not have to look up to other sportspersons to get inspired.
"Why do I have to look up to others when I have Dola didi (Olympian Dola Banerjee), Anga didi (Chekrovolu) with me here (at the hostel)?" the reigning world junior champion asked.
She credited her success to her parents, coaches and her cousin Deepti who brought her into archery in 2007.
"I took part in the state meet where I met coach Poornima Mahato and the next year I joined the Tata Archery Academy in Jamshedpur.
It was here that she started her training with proper equipment and uniform as she didn't look back, after winning the cadet world title in 2009.