Suresh Kalmadi's planned trip to the London Olympics might have triggered a furore but national athletics coach Bahadur Singh feels the tainted administrator's presence would "encourage" the athletes.
Kalmadi, an accused in the Commonwealth Games-related graft case, is out on bail after spending almost a year in Tihar Jail.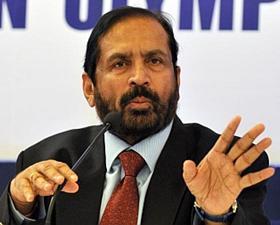 Kalmadi, a member of the International Association of Athletics Federation (IAAF) Council, received permission to go to the United Kingdom from July 26 to August 13.
"Why would the athletes be discouraged by Kalmadi's presence in London. Rather it would encourage them if he meets them," Singh said.
"He has been associated with Indian athletics for the last 15-20 years. He is well known in international athletics as he is an IAAF council member.
"Besides, Kalmadi is not guilty till the court gives its verdict," he added.
Earlier, Kalmadi's planned London trip drew sharp reactions with Sports Minister Ajay Maken stating that he would try to ensure that the disgraced administrator is not a part of the Indian delegation.
"It is unfortunate... as a sports minister I would just try to ensure that he will not be part of the Indian delegation. This I can ensure that Mr. Kalmadi won't be part of Indian delegation," Maken has said.
Apart from the minister, Clean Sports India, a movement for corruption-free sports, also denounced Kalmadi while IOA acting president V K Malhotra sought to steer clear of the controversy, saying he was not part of the delegation.
Former Asian Championships gold medallist Shiny Wilson also supported Kalmadi going to London Olympics, saying that "it is a good for Indian sports."
"Kalmadi has done a lot of good for Indian sports, especially in athletics. He has been associated with athletics for so long and he has helped athletics grow in the country.
"It's good for Indian sports that he (Kalmadi) is going to London," said Wilson who won a gold in 800m race in 1985 Asian Championships in Jakarta.