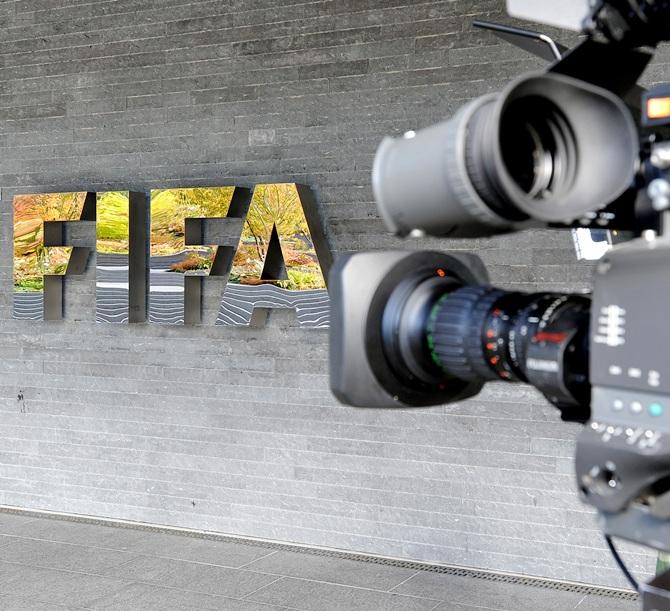 A camera is seen by the FIFA logo outside the FIFA headquarters. Photograph: Harold Cunningham/Getty Images
FIFA whistleblower Phaedra Al-Majid, who accused Qatar of corruption in its successful bid to win the right to host the 2022 soccer World Cup, said on Wednesday she was living in fear after receiving threats against her family.
Al-Majid, a former employee of the Qatar 2022 bid, said a FIFA report into corruption in that bid and the 2018 bid, awarded to Russia, had ignored some of the evidence she gave investigators.
"I will be looking over my shoulder for the rest of my life. It's cost me my credibility and the security of me and my children, however I did witness something and believe I did have to say what I witnessed," she said in an interview with Sky TV.
Al-Majid did not say who had threatened her.
Her evidence was dismissed in the FIFA report which was made public by German judge Hans Joachim Eckert last week.
"If you are asking me do I regret being the Qatar whistleblower, it has cost me personally, it cost me emotionally," Al-Majid added.
Neither FIFA nor Qatar 2022 were immediately available to comment.
Blatter tells FA there could be a way to release Garcia report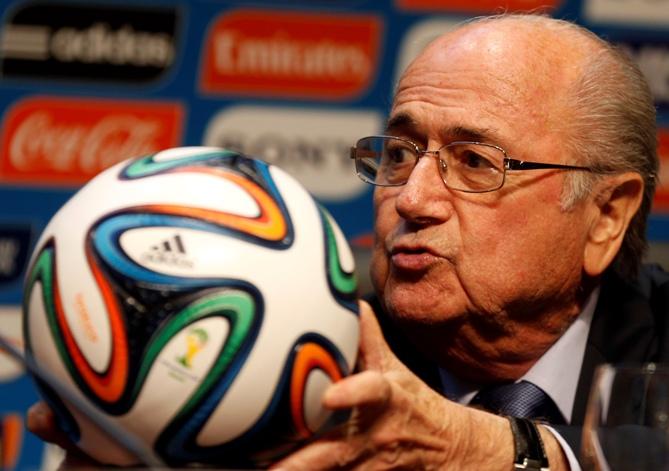 FIFA President Sepp Blatter holds an official 2014 FIFA World Cup soccer ball Photograph: Paulo Whitaker/Reuters
FIFA president Sepp Blatter has told English FA chairman Greg Dyke that Michael Garcia's report into the bidding process for the 2018 and 2022 World Cups could be made public if people named in it waive any right to any subsequent legal action.
Dyke had written to every FIFA executive committee member calling for Garcia's report to be published in full.
Blatter said in a letter to Dyke, published on FIFA's official website on Wednesday, that FIFA was bound by an "obligation of confidentiality" and would violate its code of ethics if it made the report public.
But he said the publication of the report "might be permissible if the persons and entities included in the report consent to such publication and waive any legal action they may be entitled to bring due to the publication".
"Against this background," Blatter said, "I would therefore like to ask you whether we may interpret your letter as providing consent on behalf of any natural or legal person affected by the parts of the report relating to the England World Cup bid (i.e. Inter alia, the bid team/committee, FA employees, consultants etc) to publication of the report and as a corresponding waiver of any legal action in the event of such publication."
FIFA was plunged into chaos on Thursday when its ethics judge Hans-Joachim Eckert said in a statement there were no grounds to reopen the controversial bidding process which led to Russia being given the 2018 World Cup and Qatar the 2022 finals.
But hours later former US prosecutor Garcia, who led the investigation over an 18-month period, said Eckert's 42-page statement had misrepresented his 430-page report and that he would take the case to the FIFA appeal committee.
FIFA on Tuesday lodged a criminal complaint in Switzerland against unidentified people over the bidding for the 2018 and 2022 tournaments, but stood by its conclusion that any wrongdoing was not enough to jeopardise the winning Russian and Qatari bids.